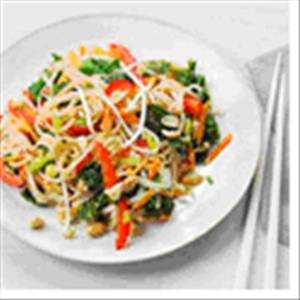 Vegetable Pad Thai
Healthy and tasty vegetarian meal.
| Servings | Prep Time | Cook Time |
| --- | --- | --- |
| 4 | 15 mins | 15 mins |
Directions
| | |
| --- | --- |
| 1. | Bring 6 cups of water to a boil in a large saucepan; add noodles, stir to separate, then cover and remove from heat. Let stand 4 minutes, stirring once or twice, until softened. Drain; rinse with cold water. In a small cup, combine chili sauce, soy sauce, fish sauce, and lime juice . |
| 2. | Heat 1 1/2 tablespoons of the oil in a large non-stick skillet or wok over medium-high heat. Add garlic and ginger; sauté 30 seconds or until fragrant. Add greens and cover with lid for 2 minutes or until wilted. Add bell pepper, carrots, and scallions; stir-fry 4 minutes or until vegetables are crisp-tender. Remove vegetables to a bowl. |
| 3. | Return skillet to heat. Add remaining oil. When hot, add eggs and scramble just until set. Add to bowl with vegetables. |
| 4. | Return skillet to heat and add chili-sauce mixture and bring to a boil. Add noodles; gently toss, using a pasta fork, for 1 minute, to coat. Return vegetables and eggs to skillet. Cook, tossing with pasta fork, for 3 minutes or until hot and noodles are tender. Stir in bean sprouts, if desired. |
| 5. | Transfer to a serving bowl with cilantro and toss. Top with peanuts, if desired. Serve with lime wedges. |
Nutrition summary
There are 498 calories in 1 serving of Vegetable Pad Thai.
Calorie split: 28% fat, 56% carbs, 16% protein.
Nutrition Facts
Amount Per Serving
Calories
498
% Daily Values*
Total Fat
15.8g
20%
Saturated Fat
2.607g
13%
Trans Fat
0g
Polyunsaturated Fat
3.976g
Monounsaturated Fat
7.862g
Cholesterol
206mg
69%
Sodium
1222mg
53%
Total Carbohydrate
72.37g
26%
Dietary Fiber
11g
39%
Sugars
9.7g
Protein
21.14g
Vitamin D
-
Calcium
58mg
4%
Iron
1.75mg
10%
Potassium
233mg
5%
Vitamin A
100mcg
11%
Vitamin C
13.4mg
15%
Related Recipe Collections
Related Recipes
Shrimp Noodle Soup
A low-fat dish that's bursting with unique flavors.
Per serve - Energy: 214kcal | Carb: 31.26g | Prot: 19.32g | Fat: 1.90g
Easy Chicken Noodle Soup
An easy soup to warm your tummy.
Per serve - Energy: 261kcal | Carb: 44.29g | Prot: 13.12g | Fat: 2.89g
Chicken Teriyaki & Soba Noodles
A traditional Japanese dish of soba noodles tossed with chicken, and covered in teriyaki sauce.
Per serve - Energy: 123kcal | Carb: 9.61g | Prot: 11.44g | Fat: 4.68g
Egg Drop Noodle Soup
A quick, satisfying bowl of egg drop soup that has no cholesterol.
Per serve - Energy: 290kcal | Carb: 31.30g | Prot: 14.05g | Fat: 12.12g