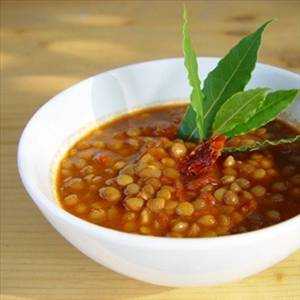 Lentil Soup
A rich, hearty filling soup that is great for lunch or before the main meal.
| Servings | Prep Time | Cook Time |
| --- | --- | --- |
| 8 | 15 mins | 45 mins |
Directions
| | |
| --- | --- |
| 1. | Sort and rinse lentils, set aside they do not need to soak like other dried beans. |
| 2. | In stockpot lightly saute or "sweat" the carrots, onions, and celery in olive or canola oil. Add garlic; pour in about 8 cups of water with the boullion cubes (or 8 cups chicken broth or stock; add more or less boullion cubes for preferred chicken flavor). |
| 3. | Add lentils, and seasonings bring to a boil, and then simmer for about 30 minutes until lentils and vegetables are tender. |
| 4. | Remove bay leaf, season with additional salt and pepper if desired. (I don't add any additional salt, as the boullion or stock has enough of it's own. ) |
| 5. | Note: My husband who told me he was going to hate this soup, really liked it in fact and ate 3 bowlfuls the first time I made it. The next time I make it I am going to fry up a little turkey bacon and add to it, just to make it a little smoky. Or I suppose you could add a little ground cumin if you like the smoky flavor. |
Nutrition summary
There are 207 calories in 1 serving of Lentil Soup.
Calorie split: 11% fat, 64% carbs, 26% protein.
Nutrition Facts
Amount Per Serving
Calories
207
% Daily Values*
Total Fat
2.46g
3%
Saturated Fat
0.377g
2%
Trans Fat
0g
Polyunsaturated Fat
0.528g
Monounsaturated Fat
1.406g
Cholesterol
0mg
0%
Sodium
893mg
39%
Total Carbohydrate
33.26g
12%
Dietary Fiber
15.5g
55%
Sugars
2.5g
Protein
13.32g
Vitamin D
-
Calcium
55mg
4%
Iron
3.92mg
22%
Potassium
577mg
12%
Vitamin A
133mcg
15%
Vitamin C
4.5mg
5%
Related Recipe Collections
Related Recipes
Minestrone Soup
Delicious minestrone makes for a hearty meal in itself.
Per serve - Energy: 219kcal | Carb: 40.11g | Prot: 11.19g | Fat: 2.18g
Fresh Pea Soup
An easy "fresh" pea soup using peas which have not been dried like regular split pea soup.
Per serve - Energy: 138kcal | Carb: 21.97g | Prot: 10.16g | Fat: 1.87g
Black Bean Soup
A quick and very filling soup that doubles as a meal.
Per serve - Energy: 226kcal | Carb: 34.73g | Prot: 15.49g | Fat: 3.88g
Turkey Bacon Lentil Soup
Very easy and tasty lentil soup.
Per serve - Energy: 274kcal | Carb: 42.17g | Prot: 20.80g | Fat: 2.71g
Italian Vegetable Soup
A yummy soup that is hearty and filling.
Per serve - Energy: 213kcal | Carb: 37.22g | Prot: 11.25g | Fat: 2.61g
Four Bean Chicken Chili Soup
Kind of like chili, and kind of like soup, hence chili soup.
Per serve - Energy: 203kcal | Carb: 32.05g | Prot: 14.84g | Fat: 2.22g