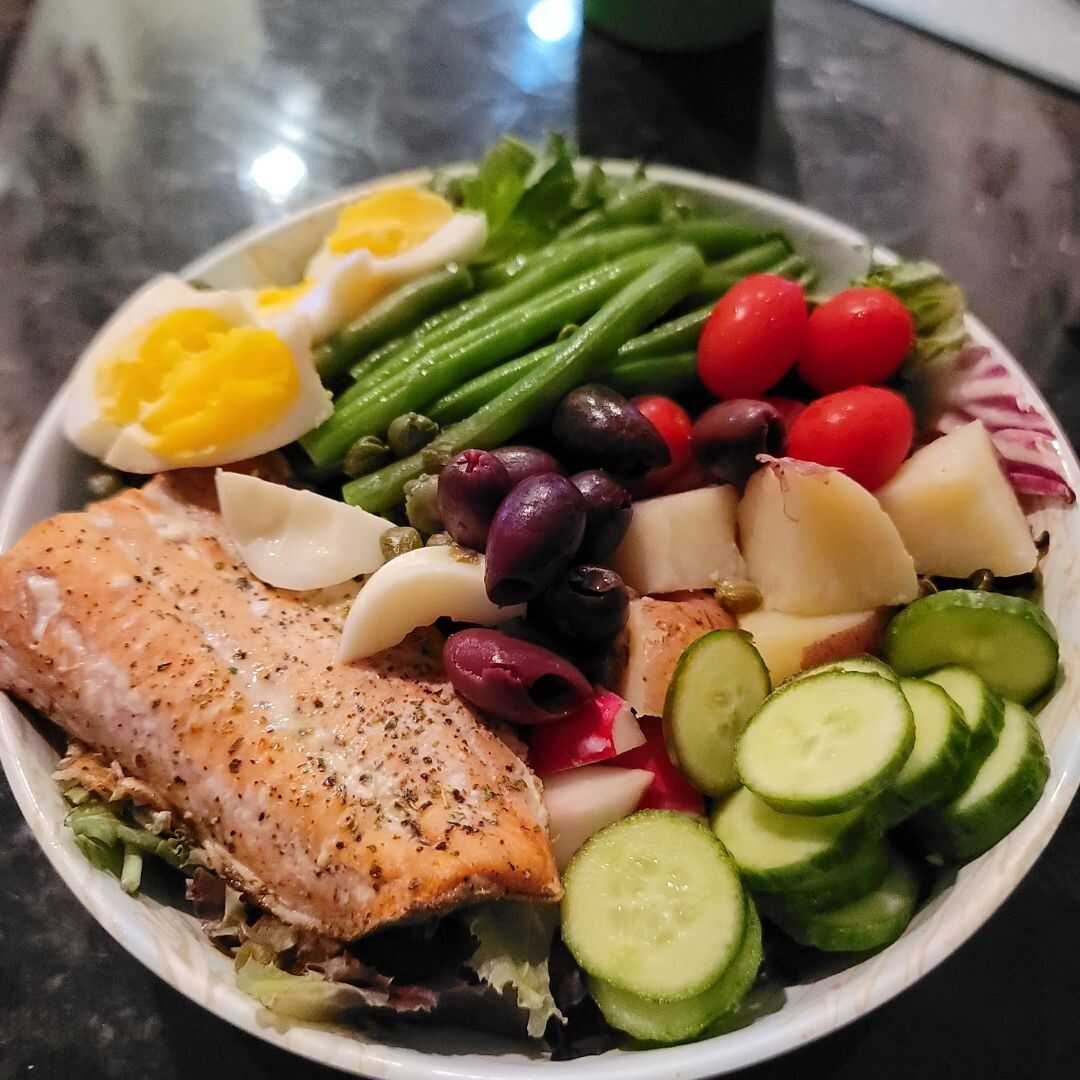 Salmon Nicoise Salad
A satisfying, complete meal that has balanced flavor.
| Servings | Prep Time | Cook Time |
| --- | --- | --- |
| 8 | 25 mins | 30 mins |
Directions
| | |
| --- | --- |
| 1. | Place potatoes in a medium saucepan and add cold water to cover by an inch. Bring to a boil, season with salt, and cook for 15−20 minutes or until tender. Transfer potatoes to a plate. |
| 2. | Return water to a boil and cook string beans for 2 minutes or until tender. Transfer to a bowl of ice water and chill for 3 minutes. Transfer to paper towels and pat dry. |
| 3. | Boil eggs for 8 minutes. Transfer eggs to a bowl of ice water and chill for 5 minutes. Peel and set aside. |
| 4. | Heat 2 tbsps. olive oil in a separate saucepan. Add capers and cook until crispy. Transfer capers to paper towels. Allow the remaining oil in the pan to cool and set aside. |
| 5. | Pre-heat oven to 425˚F. Rub salmon all over with reserved caper oil and place on a rimmed baking sheet. Season with salt and pepper. Roast for 10−12 minutes or until medium-rare (fish will be slightly translucent in the center). Let it cool and set aside. |
| 6. | To make the dressing, mash anchovies, mustard, and sugar in a large bowl to form a coarse paste. |
| 7. | Remove peel and white pith from lemon. Working over a bowl, cut between membranes of lemon to release segments. Squeeze remaining juice from membranes into bowl, then discard membranes. Add shallots, then slowly whisk in remaining olive oil. |
| 8. | Halve reserved potatoes and eggs crosswise. Arrange everything on a platter and drizzle with dressing. |
Nutrition summary
There are 548 calories in 1 serving of Salmon Nicoise Salad.
Calorie split: 59% fat, 25% carbs, 16% protein.
Nutrition Facts
Amount Per Serving
Calories
548
% Daily Values*
Total Fat
37.14g
48%
Saturated Fat
5.926g
30%
Trans Fat
0g
Polyunsaturated Fat
3.269g
Monounsaturated Fat
23.228g
Cholesterol
166mg
55%
Sodium
985mg
43%
Total Carbohydrate
35.04g
13%
Dietary Fiber
8.2g
29%
Sugars
8.43g
Protein
22.5g
Vitamin D
-
Calcium
65mg
5%
Iron
2.12mg
12%
Potassium
967mg
21%
Vitamin A
42mcg
5%
Vitamin C
41.6mg
46%
Related Recipe Collections
Related Recipes
Almost Sushi Salmon
Salmon marinated in delicious flavors.
Per serve - Energy: 531kcal | Carb: 45.94g | Prot: 53.81g | Fat: 13.98g
Seafood Chowder
Fat free half & half helps to keep the calories down.
Per serve - Energy: 392kcal | Carb: 35.89g | Prot: 32.12g | Fat: 12.83g
Salmon Cakes
Salmon cakes made with canned salmon and no bread crumbs.
Per serve - Energy: 162kcal | Carb: 1.93g | Prot: 24.43g | Fat: 6.28g
Salmon Salad Lettuce Wrap
Salmon with onions, carrots, capers and dressing in a lettuce wrap.
Per serve - Energy: 429kcal | Carb: 14.84g | Prot: 42.69g | Fat: 22.47g