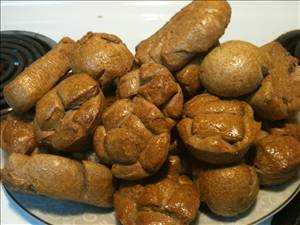 Whole Wheat Dinner Rolls (Almost Vegan)
These rolls are respectively low in calories, crisp on the outside, and soft on the inside. They're great for special occasions or rounding out veggie soup.
| Servings | Prep Time | Cook Time |
| --- | --- | --- |
| 24 | 45 mins | 3 hrs 5 mins |
Directions
| | |
| --- | --- |
| 1. | Dissolve yeast in a large bowl with warm water. Let stand for about 12 minutes until it appears creamy. Blend bananas and oil until combined. Let egg sit out to come to room temperature. |
| 2. | Mix sweetener (like Splenda), salt, oil and banana blend, and half of flour into yeast. Slowly add the other half of flour until the dough pulls away from the bowl. Turn dough out onto a lightly floured surface and knead about 15 minutes. Dough should be smooth and slightly elastic. |
| 3. | Spray large bowl and dough with cooking spray (like Pam). Cover with a light-weight damp cloth and let rise for about an hour until doubled in size. Punch the dough down, recover, and let rise another hour until doubled in size again (Do Not Skip). |
| 4. | Meanwhile, decide on dough presentation. For pull apart rolls spray a muffin tin with cooking spray (need 24 muffin cups). Punch down dough and divide into 24 equal parts. (Quarter, then divide each quarter into six). Roll each section out into a long log about 8 inches, and cut into 8 pieces. Pack pieces into muffin tin. |
| 5. | Let rise uncovered for about 40 minutes until doubled in size. (Do Not Skip). |
| 6. | Beat egg well. Gently brush egg over top of rolls for shiny finish. Bake at 400 °F (200 °C) for about 20 minutes or until slightly brown. (for vegan rolls, skip the egg and spray tops with cooking spray). |
| 7. | Note: You can shape the dough many different ways, from round balls to whole loaves. You can even braid the logs, but don't forget to correct the serving size. For different presentations you will need to adjust the baking time. |
Nutrition summary
There are 118 calories in 1 serving of Whole Wheat Dinner Rolls (Almost Vegan).
Calorie split: 21% fat, 66% carbs, 12% protein.
Nutrition Facts
Amount Per Serving
Calories
118
% Daily Values*
Total Fat
2.96g
4%
Saturated Fat
0.466g
2%
Trans Fat
0g
Polyunsaturated Fat
0.457g
Monounsaturated Fat
1.792g
Cholesterol
9mg
3%
Sodium
68mg
3%
Total Carbohydrate
20.59g
7%
Dietary Fiber
3.3g
12%
Sugars
1.32g
Protein
3.81g
Vitamin D
-
Calcium
10mg
1%
Iron
1.08mg
6%
Potassium
144mg
3%
Vitamin A
3mcg
0%
Vitamin C
0.9mg
1%
Related Recipe Collections
Related Recipes
Zucchini Bread
This low fat and low calorie zucchini bread is a great homemade alternative to regular bread.
Per serve - Energy: 129kcal | Carb: 24.38g | Prot: 3.74g | Fat: 2.80g
Almond Criss Cross Cookies
Delicious cookies to be consumed in moderation, given the high nut butter content.
Per serve - Energy: 104kcal | Carb: 20.83g | Prot: 2.21g | Fat: 2.19g
Oatmeal Muffins
Taste like regular muffins and are yummy.
Per serve - Energy: 132kcal | Carb: 22.81g | Prot: 6.10g | Fat: 2.08g
Banana Bread
A great no fat added banana bread with applesauce, whole wheat flour and whole rolled oats.
Per serve - Energy: 199kcal | Carb: 42.86g | Prot: 4.94g | Fat: 1.62g
Whole Wheat Pumpkin Muffins
A light and lovely muffin, especially for the fall.
Per serve - Energy: 111kcal | Carb: 19.04g | Prot: 3.29g | Fat: 2.63g
Gingerbread Cake
Low fat, tasty and smells wonderful for the holidays.
Per serve - Energy: 107kcal | Carb: 20.33g | Prot: 1.64g | Fat: 2.26g