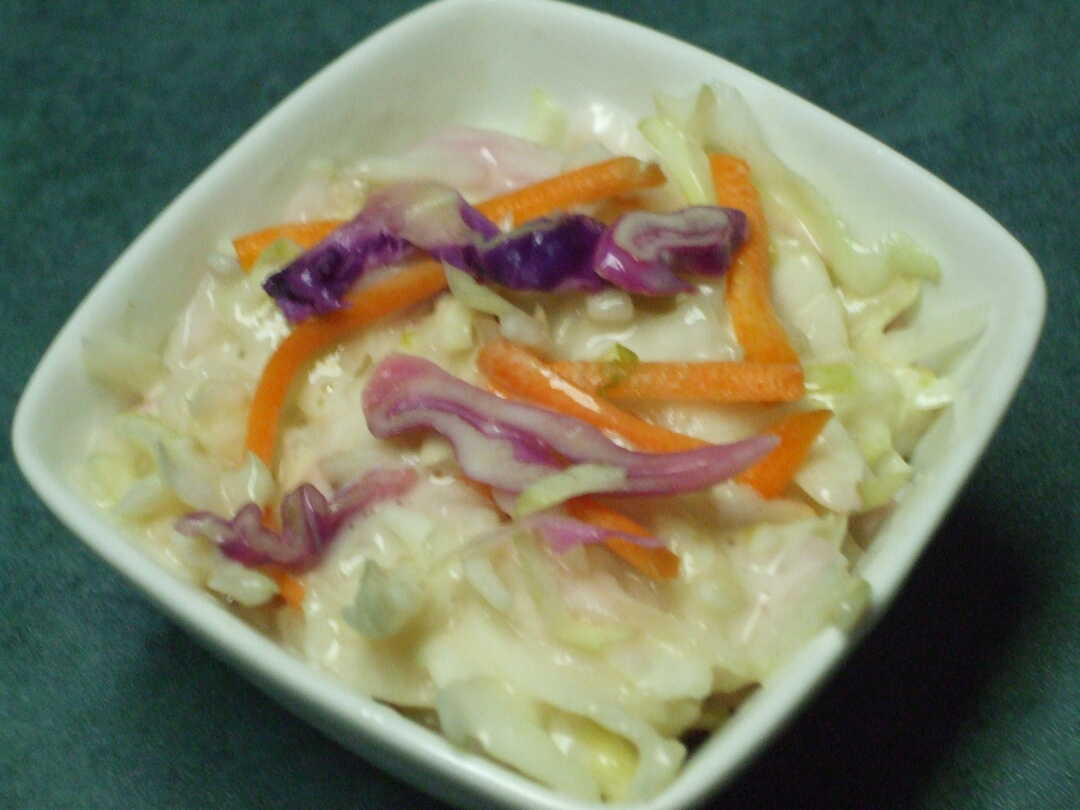 A creamy yet tart single serving of cole slaw.
| Servings | Prep Time | Cook Time |
| --- | --- | --- |
| 1 | 3 mins | 0 mins |
Directions
| | |
| --- | --- |
| 1. | In about a 2 cup container with a lid, add the vinegar, Miracle Whip and Splenda. Put the lid on and shake vigorously to mix. |
| 2. | Add the cole slaw mix to the container. Put the lid back on and shake to coat the slaw with the dressing (it mixes better if the container is held upside down). |
| 3. | Note: adjust the amounts of the dressing ingredients to suit your taste each time you make it until you have the ratio of ingredients to suit your optimum taste. If you're a mayonnaise fan, use that instead of Miracle Whip. |
Nutrition summary
There are 50 calories in 1 serving of Easy Peasy Cole Slaw.
Calorie split: 31% fat, 62% carbs, 8% protein.
Nutrition Facts
Amount Per Serving
Calories
50
% Daily Values*
Total Fat
2g
3%
Saturated Fat
0.3g
2%
Trans Fat
0g
Polyunsaturated Fat
0g
Monounsaturated Fat
0g
Cholesterol
5mg
2%
Sodium
155mg
7%
Total Carbohydrate
9g
3%
Dietary Fiber
2g
7%
Sugars
5g
Protein
1.1g
Vitamin D
-
Calcium
-
Iron
-
Potassium
-
Related Recipe Collections
Related Recipes
Coconut Flour Wrap
A healthy tortilla to accompany a variety of dishes.
Per serve - Energy: 47kcal | Carb: 6.50g | Prot: 7.00g | Fat: 1.00g
Italian Hummus
An Italian twist on a classic hummus.
Per serve - Energy: 53kcal | Carb: 6.81g | Prot: 2.39g | Fat: 2.26g
Mexican Bean Salad
Three beans, red pepper, corn, and red onion make this Mexican bean salad.
Per serve - Energy: 85kcal | Carb: 13.38g | Prot: 3.62g | Fat: 2.33g
Four Pepper Salad
Nice light & tasty salad for a warm day.
Per serve - Energy: 55kcal | Carb: 5.36g | Prot: 3.32g | Fat: 2.57g
Mexican Coleslaw
A spicy coleslaw that a fabulous crunchy salad or side dish.
Per serve - Energy: 52kcal | Carb: 12.25g | Prot: 2.63g | Fat: 0.29g
Green Beans Salad Provencal
A perfect light refreshing salad for any time that includes the best of typical French cuisine, tomatoes, olive oil, garlic and herbs.
Per serve - Energy: 50kcal | Carb: 6.34g | Prot: 1.72g | Fat: 2.45g