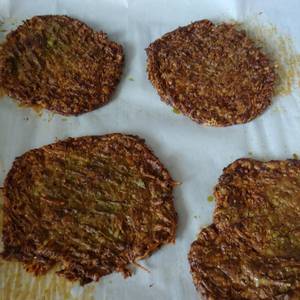 Avocado Chips
Chips made of avocado.
Servings: 6
Prep Time: 10 mins
Cook Time: 20 mins
Average Rating:
Ingredients
Directions
Mix all ingredients.
Spoon into 6 large flat crackers. You can make smaller if you wish.
Bake at 325 °F (165 °C) for 20 minutes.
Nutrition summary
There are 180 calories in 1 serving of Avocado Chips.
Calorie split: 67% fat, 12% carbs, 22% protein.
Related Recipe Collections
Related Recipes
Cool Green Goddess Avocado Soup
A slimmed down version of cool, creamy avocado soup. Take advantage of the healthy fat in avocados for a meatless meal.
Per serve - Energy: 165kcal | Carb: 12.14g | Prot: 3.70g | Fat: 12.23g
Brie Pizza aka Briezza
This is an easy light and flavorful pizza with brie cheese, green apples, and no red sauce.
Per serve - Energy: 451kcal | Carb: 34.27g | Prot: 24.14g | Fat: 21.79g
Cantaloupe & Prosciutto Salad
A nice, sweet-salty-herbal flavor salad that is so refreshing and perfect for summer.
Per serve - Energy: 102kcal | Carb: 9.95g | Prot: 6.98g | Fat: 4.43g
Macaroni & Cheese
Comfort food never tasted this good and without the extra calories.
Per serve - Energy: 291kcal | Carb: 35.87g | Prot: 14.16g | Fat: 9.78g
Low Fat Yogurt with Banana
Sweet and wholesome. Works well for breakfast, dessert or as a sweet treat.
Per serve - Energy: 248kcal | Carb: 42.93g | Prot: 13.21g | Fat: 3.91g