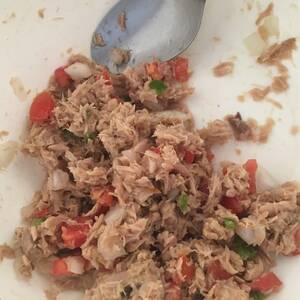 Ingredients
Directions
Cut the chile, tomato and onion into squares.
Open the can of tuna.
Combine all together and add a dash of salt.
Nutrition summary
There are 124 calories in 1 serving of Spicy Tuna Salad II.
Calorie split: 8% fat, 7% carbs, 85% protein.
Related Recipe Collections
Related Recipes
Tuna and Mushroom Salad
Even if you're not a mushroom lover, you very well might enjoy this recipe.
Per serve - Energy: 239kcal | Carb: 11.26g | Prot: 21.35g | Fat: 12.37g
Tuna Mushroom Salad
While tuna and mushrooms may not be favorite ingredients, this is an ok salad.
Per serve - Energy: 134kcal | Carb: 5.68g | Prot: 14.90g | Fat: 5.93g
Tuna Stuffed Peppers
Mini sweet peppers stuffed with tuna.
Per serve - Energy: 185kcal | Carb: 16.10g | Prot: 23.74g | Fat: 3.69g