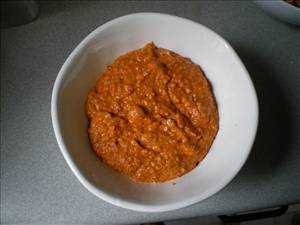 Roasted Vegetable Sauce
A hearty sauce to put atop of rice, pasta, chicken or veggie burgers, mixed in couscous, on top of eggs, pita points, in a baked or sweet potato.
| Servings | Prep Time | Cook Time |
| --- | --- | --- |
| 6 | 10 mins | 15 mins |
Directions
| | |
| --- | --- |
| 1. | Line a cookie sheet with tin foil and pre-heat the broiler in oven ((500 °F (260 °C) - or broil setting depending on oven). |
| 2. | Cut Roma tomatoes in half lengthwise and set on cookie sheet skin side down. Split red bell peppers in half lengthwise, remove seeds, and set on cookie sheet skin side down. Remove skin from garlic cloves and slice off the hard end, but otherwise leave whole and scatter onto cookie sheet between other vegetables. |
| 3. | Drizzle the veggies with the olive oil and season well with salt and pepper. |
| 4. | Put the vegetables into oven and roast for approximately 10 minutes until darkened and the skins are wrinkled a bit. Garlic will appear browned. |
| 5. | While vegetables are in the oven, section off red onion and place in a food processor. |
| 6. | Once vegetables are out of the oven, add to the food processor (a bit at a time) and blend fully until a slightly chunky sauce develops. Scrape the olive oil from the roasted vegetables cookie sheet into the food processor, and add the balsamic vinegar and basil (8-10 leaves of fresh) to the processor as well. Blend fully. |
| 7. | Serve sauce warm or cool with any number of dishes. You can also easily add other vegetables you have laying about like mushrooms, squash and carrots. |
Nutrition summary
There are 80 calories in 1 serving of Roasted Vegetable Sauce.
Calorie split: 49% fat, 44% carbs, 7% protein.
Nutrition Facts
Amount Per Serving
Calories
80
% Daily Values*
Total Fat
4.83g
6%
Saturated Fat
0.691g
3%
Trans Fat
-
Polyunsaturated Fat
0.668g
Monounsaturated Fat
3.323g
Cholesterol
0mg
0%
Sodium
5mg
0%
Total Carbohydrate
9.64g
4%
Dietary Fiber
2.2g
8%
Sugars
6.03g
Protein
1.46g
Vitamin D
-
Calcium
20mg
2%
Iron
0.54mg
3%
Potassium
162mg
3%
Vitamin A
121mcg
13%
Vitamin C
122.8mg
136%
Related Recipe Collections
Related Recipes
Baba Ghanouj
Delicious Middle Eastern eggplant dip.
Per serve - Energy: 94kcal | Carb: 10.29g | Prot: 2.72g | Fat: 5.96g
Tofu & Herb Spread
A vegan spread that can be used as a dip, sauce or condiment.
Per serve - Energy: 92kcal | Carb: 6.42g | Prot: 7.61g | Fat: 4.29g
Cranberry Orange Relish
Make a delicious dessert or breakfast by stirring in plain yogurt.
Per serve - Energy: 69kcal | Carb: 17.76g | Prot: 0.26g | Fat: 0.06g
Tomato Guacamole
Avocado and tomato with lemon juice that's great with blue corn chips.
Per serve - Energy: 90kcal | Carb: 6.76g | Prot: 1.36g | Fat: 7.46g
Home-style Hummus
A hummus version I learned from my mom with lemon juice and no olive oil, unless you drizzle some on top for decoration.
Per serve - Energy: 94kcal | Carb: 14.89g | Prot: 3.55g | Fat: 2.64g
Mexican Guacamole
Works with tacos or as a side with fish.
Per serve - Energy: 91kcal | Carb: 6.57g | Prot: 1.57g | Fat: 7.50g