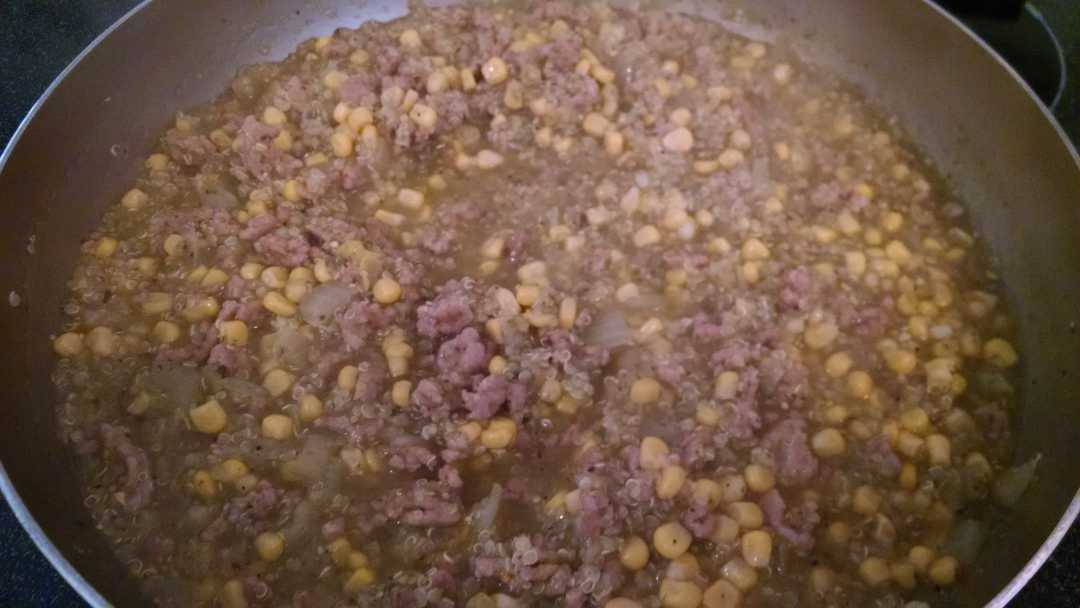 Quinoa chili verde is hearty and satisfying with lots of smoky flavor.
| Servings | Prep Time | Cook Time |
| --- | --- | --- |
| 6 | 15 mins | 40 mins |
Directions
| | |
| --- | --- |
| 1. | Using the 1 cup of water and the 1/2 cup of quinoa, cook according to package directions. Set aside. |
| 2. | Preheat oven to broil. On a foil lined baking sheet, place poblano, tomatillos (halved and skin side up), 3 cloves of garlic (skin on). Broil for about 7-8 minutes, turning poblano as you go. Pepper should be blistered and tomatoes and garlic should be blackened. Remove skins from garlic and pepper. Remove stem and seeds from pepper as well. Place all ingredients in food processor. Add a pinch of salt and process until smooth. |
| 3. | Meanwhile, in a large saucepan or dutch oven, brown ground pork until no longer pink. Remove pork with slotted spoon, set aside. Mince the remaining garlic. |
| 4. | Add onion and garlic to pan, saute for about 5 minutes or until onions begin to soften. Add pork back to pan along with oregano. |
| 5. | Pour in the pepper, tomatillo mixture as well as the chicken broth and corn. Bring to boil. Simmer 30 minutes. Stir in cooked quinoa. Serve. |
Nutrition summary
There are 305 calories in 1 serving of Quinoa Chili Verde.
Calorie split: 44% fat, 34% carbs, 22% protein.
Nutrition Facts
Amount Per Serving
Calories
305
% Daily Values*
Total Fat
14.94g
19%
Saturated Fat
4.793g
24%
Trans Fat
0g
Polyunsaturated Fat
0.314g
Monounsaturated Fat
0.138g
Cholesterol
47mg
16%
Sodium
310mg
13%
Total Carbohydrate
25.94g
9%
Dietary Fiber
4g
14%
Sugars
6.41g
Protein
16.64g
Vitamin D
-
Calcium
25mg
2%
Iron
0.65mg
4%
Potassium
337mg
7%
Vitamin A
7mcg
1%
Vitamin C
17.8mg
20%
Related Recipe Collections
Related Recipes
Chicken Stir Fry
Chicken, carrots, mushrooms and broccoli in a spicy sauce.
Per serve - Energy: 306kcal | Carb: 39.22g | Prot: 20.00g | Fat: 8.51g
Black Bean Salsa
For salsa lovers.
Per serve - Energy: 110kcal | Carb: 13.69g | Prot: 4.59g | Fat: 4.77g
Turkey Slow Cooker Chili
Chili made with ground turkey in slow cooker.
Per serve - Energy: 362kcal | Carb: 34.94g | Prot: 26.58g | Fat: 13.06g
No Bean Turkey Chili
Chili with ground turkey and bell peppers.
Per serve - Energy: 299kcal | Carb: 26.24g | Prot: 30.58g | Fat: 9.13g
Spicy Thai Peanut Chicken over Rice
This is a very tasty Asian-inspired dish made with chicken and broccoli in a spicy peanut sauce.
Per serve - Energy: 261kcal | Carb: 23.41g | Prot: 22.00g | Fat: 9.73g