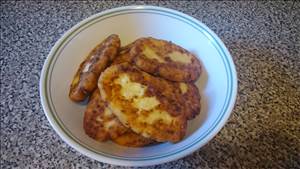 Sirnik
Cottage cheese pancakes.
Servings: 10
Prep Time: 15 mins
Cook Time: 15 mins
Average Rating:
Ingredients
Directions
Put cottage cheese in the bowl, add one raw egg, sugar, and baking soda, flour and mix well.
Take the cutting board, sprinkle it with flour. With a spoon take prepared mixture and make 2" ball, then flatten to make a little pancake. Roll both sides of a pancake on the board to cover in flour.
Fry on medium heat until golden.
Garnish with sour cream or jam or Nutella.
Nutrition summary
There are 72 calories in 1 serving of Sirnik.
Calorie split: 36% fat, 25% carbs, 39% protein.
Related Recipe Collections
Related Recipes
Arugula Skirt Steak Salad
A salad of arugula steak and red onion.
Per serve - Energy: 468kcal | Carb: 12.36g | Prot: 30.44g | Fat: 32.64g
Stuffed Jalapenos
Peppers filled with cheese wrapped in bacon.
Per serve - Energy: 111kcal | Carb: 1.08g | Prot: 3.79g | Fat: 10.35g
Quick Quiche
No crust quiche.
Per serve - Energy: 237kcal | Carb: 12.07g | Prot: 14.47g | Fat: 13.95g
Caprese Salad
A simple salad of 4 ingredients.
Per serve - Energy: 119kcal | Carb: 6.38g | Prot: 7.32g | Fat: 6.67g
Broccoli Cheesy Bread
Cheese topped vegetable bread.
Per serve - Energy: 411kcal | Carb: 14.44g | Prot: 28.35g | Fat: 27.31g