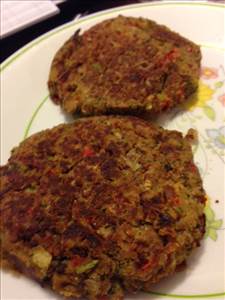 Quinoa Veggie Burgers
A gluten free main meal.
Servings: 20
Prep Time: 30 mins
Cook Time: 30 mins
Average Rating:
Ingredients
Directions
Place chick peas, egg whites, seasonings, flour, and soy sauce in processor and pulse until blended.
Add veggies and pulse, stir, pulse, stir, etc until veggies are chopped pretty finely, but still visible.
Put mix into large bowl and add in quinoa and bread crumbs and use a spatula to blend well.
Spray non stick skillet with olive oil spray. Using 1/3 cup measuring cup form into patties directly in the pan.
Fry at a low temperature slowly (this will ensure more firm patties) turning after top of patties start to look dryer. Then carefully flip to keep patties together. Cook a few minutes on each side and continue to flip until browned on each side.
Nutrition summary
There are 89 calories in 1 serving of Quinoa Veggie Burgers.
Calorie split: 8% fat, 70% carbs, 22% protein.
Related Recipe Collections
Related Recipes
Spicy Tuna Salad II
Tuna salad with Chile Serrano.
Per serve - Energy: 124kcal | Carb: 1.93g | Prot: 24.49g | Fat: 1.02g
Roasted Broccoli
Broccoli and garlic roasted with red pepper.
Per serve - Energy: 50kcal | Carb: 3.26g | Prot: 1.39g | Fat: 4.15g
Spicy Thai Peanut Chicken over Rice
This is a very tasty Asian-inspired dish made with chicken and broccoli in a spicy peanut sauce.
Per serve - Energy: 261kcal | Carb: 23.41g | Prot: 22.00g | Fat: 9.73g
Pizza Pasta
Rigatoni with pizza toppings.
Per serve - Energy: 423kcal | Carb: 66.27g | Prot: 22.16g | Fat: 9.26g