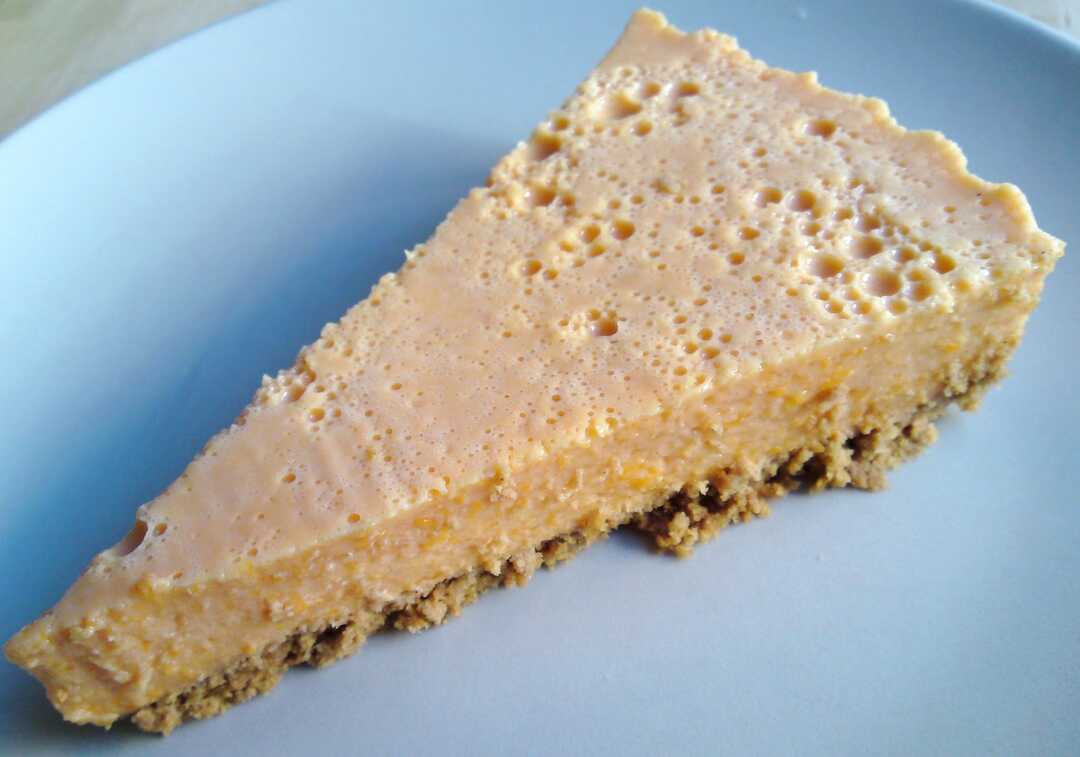 A fabulous low-carb cheesecake that will be just perfect for Thanksgiving.
| Servings | Prep Time | Cook Time |
| --- | --- | --- |
| 16 | 15 mins | 1 hr 15 mins |
Directions
| | |
| --- | --- |
| 1. | Bring cream cheese, eggs, and heavy whipping cream to room temperature. Heat stove to 375 °F (190 °C). Line bottom of a 9" spring foam pan with parchment paper and grease the sides and bottom liberally. |
| 2. | Wrap the bottom and sides of the pan in heavy-duty foil. You'll be baking the cheesecake with the spring foam pan set in a baking pan half-full of boiling water, so you want to protect from leaks. |
| 3. | Place cream cheese in a bowl and beat on medium speed until well blended. Be sure to scrape your beaters and the sides of the bowl a few times to make sure that the cream cheese is smooth throughout. The cream cheese should be nice and fluffy when it's well beaten. |
| 4. | Add pumpkin and mix well. Scrape sides of bowl and beaters. |
| 5. | Add spices and sweetener and mix well. Scrape sides of bowl and beaters. |
| 6. | Add eggs one at a time beating thoroughly after each addition. Make sure you continue scrapping the sides of the bowl and the beaters after each addition to ensure proper mixing. |
| 7. | Beat in heavy whipping cream. Pour into spring foam pan. |
| 8. | Place spring foam pan into a larger pan, and pour boiling water into the larger pan so that it comes up the sides of the pan 1 to 2". Lower the oven temperature to 325 °F (160 °C). Bake for 75 minutes, checking often after an hour. When the cake is firm to touch but slightly soft in the center, remove from oven. Let set fifteen minuets them remove side from spring foam. Let cool to room temperature, then place in fridge and let cool another 2-3 hours or even overnight. |
Nutrition summary
There are 213 calories in 1 serving of Pumpkin Cheesecake.
Calorie split: 80% fat, 10% carbs, 10% protein.
Nutrition Facts
Amount Per Serving
Calories
213
% Daily Values*
Total Fat
19.29g
25%
Saturated Fat
11.621g
58%
Trans Fat
-
Polyunsaturated Fat
0.866g
Monounsaturated Fat
5.591g
Cholesterol
123mg
41%
Sodium
152mg
7%
Total Carbohydrate
5.44g
2%
Dietary Fiber
1g
4%
Sugars
2.39g
Protein
5.65g
Vitamin D
0mcg
1%
Calcium
59mg
5%
Iron
1.3mg
7%
Potassium
136mg
3%
Vitamin A
415mcg
46%
Vitamin C
1.3mg
1%
Related Recipe Collections
Related Recipes
Arugula Skirt Steak Salad
A salad of arugula steak and red onion.
Per serve - Energy: 468kcal | Carb: 12.36g | Prot: 30.44g | Fat: 32.64g
Italian Cabbage
A great side dish or lunch option.
Per serve - Energy: 218kcal | Carb: 11.30g | Prot: 12.05g | Fat: 13.16g
Stuffed Jalapenos
Peppers filled with cheese wrapped in bacon.
Per serve - Energy: 111kcal | Carb: 1.08g | Prot: 3.79g | Fat: 10.35g
Quick Quiche
No crust quiche.
Per serve - Energy: 237kcal | Carb: 12.07g | Prot: 14.47g | Fat: 13.95g
Caprese Salad
A simple salad of 4 ingredients.
Per serve - Energy: 119kcal | Carb: 6.38g | Prot: 7.32g | Fat: 6.67g
Turkey Taco Skillet
One pot taco skillet.
Per serve - Energy: 196kcal | Carb: 37.09g | Prot: 8.36g | Fat: 2.84g