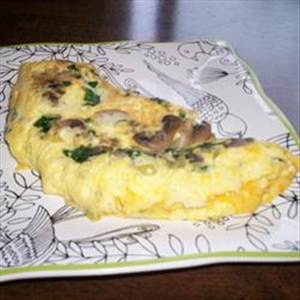 Mushroom Spinach Omelet
Light breakfast omelet
Servings: 2
Prep Time: 15 mins
Cook Time: 15 mins
Average Rating:
Ingredients
Directions
Whisk egg substitute, cheddar cheese, Parmesan cheese, salt, black pepper, garlic powder, and red pepper flakes together in a bowl.
Heat olive oil in a nonstick skillet over medium heat. Cook and stir mushrooms and onion until tender, 4-5 minutes.
Add spinach, cook until spinach wilts, 3-4 minutes.
Pour in egg mixture. Swirl pan around to evenly distribute egg mixture. Cook until egg is fully cooked and set in the middle, 5-10 minutes. Cut into wedges.
Nutrition summary
There are 159 calories in 1 serving of Mushroom Spinach Omelet.
Calorie split: 48% fat, 7% carbs, 45% protein.
Related Recipe Collections
Related Recipes
Arugula Skirt Steak Salad
A salad of arugula steak and red onion.
Per serve - Energy: 468kcal | Carb: 12.36g | Prot: 30.44g | Fat: 32.64g
Quick Quiche
No crust quiche.
Per serve - Energy: 237kcal | Carb: 12.07g | Prot: 14.47g | Fat: 13.95g
Spinach & Mushroom Eggs
Eggs with frozen spinach and mushrooms.
Per serve - Energy: 102kcal | Carb: 2.61g | Prot: 7.40g | Fat: 7.07g
Crustless Quiche Muffins
Made with sliced ham or turkey as the crust. Meat and veggies can be exchanged as desired and Tabasco can be hotter or not.
Per serve - Energy: 106kcal | Carb: 1.16g | Prot: 10.17g | Fat: 6.50g
Spinach & Feta Frittata
Egg frittatas are always a delicious breakfast option.
Per serve - Energy: 68kcal | Carb: 2.30g | Prot: 11.25g | Fat: 0.93g
Pizza Pasta
Rigatoni with pizza toppings.
Per serve - Energy: 423kcal | Carb: 66.27g | Prot: 22.16g | Fat: 9.26g