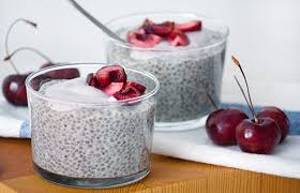 Keto Chia Pudding
Base for pudding.
Servings: 4
Prep Time: 10 mins
Cook Time: 3 hrs
Ingredients
Directions
Add all ingredients for base to large bowl. Stir to combine.
Allow base to settle 5 minutes, then mix to get rid of any clumps.
Cover and place in refrigerator for at least 3 hours or overnight. You can put all ingredients into a blender after chia seeds have expanded for a more creamy pudding.
Stir in any variations and enjoy. A serving is 1/2 cup before any variations.
Variations: a) Strawberries and Cream: 1/4 cup mashed strawberries, 1/4 cup low carb Greek yogurt, 1/4 cup chopped strawberries. b) Chocolate Coconut: 1 scoop chocolate protein powder combined with 4 oz water to form a "pudding" and 1/2 cup unsweetened shredded coconut. c) PB&J: 1/4 cup blackberries and 1/4 cup low carb peanut butter.
Nutrition summary
There are 200 calories in 1 serving of Keto Chia Pudding.
Calorie split: 40% fat, 43% carbs, 17% protein.
Related Recipe Collections
Related Recipes
Carbquik Biscuits
Easy biscuits for breakfast or anytime.
Per serve - Energy: 110kcal | Carb: 16.11g | Prot: 6.11g | Fat: 7.94g
Apple and Pear Compote
Everyone loves this simple compote recipe, from the oldies to the grandchildren.
Per serve - Energy: 146kcal | Carb: 38.89g | Prot: 0.88g | Fat: 0.36g
Baked Sweet Pears
Delicious, healthy gourmet dessert that's great for entertaining, as a sweet treat or to get in an extra serving of fruit.
Per serve - Energy: 154kcal | Carb: 35.31g | Prot: 0.69g | Fat: 0.21g
Toasted Chickpeas
Chickpeas make for a great, healthy snack without giving up on taste.
Per serve - Energy: 145kcal | Carb: 25.65g | Prot: 5.61g | Fat: 2.42g
White Bean Dip
A low fat dip to serve with crudités or crackers.
Per serve - Energy: 159kcal | Carb: 30.38g | Prot: 9.75g | Fat: 0.43g