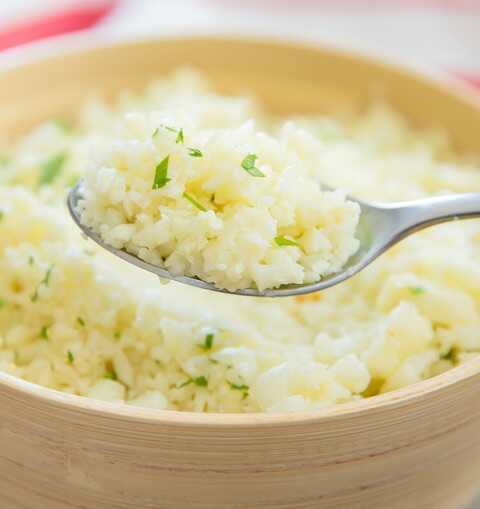 Garlic Parmesan Cauliflower Rice
Cauliflower rice is cooked with a garlic butter sauce and Parmesan cheese for a low carb, gluten free, delicious and easy dish.
| Servings | Prep Time | Cook Time |
| --- | --- | --- |
| 4 | 10 mins | 10 mins |
Directions
| | |
| --- | --- |
| 1. | In a small saucepan over a stove top, add butter and minced garlic. Bring to a simmer and cook for 2-3 minutes, stirring often, until garlic flavors are infused into the oil (melted butter). Careful to not let the garlic burn. |
| 2. | In a large skillet, wok or frying pan, add cauliflower rice and bring to medium-high heat on the stove top. Pour in butter mixture. Sprinkle cheese on top. Stir to mix and cook until cauliflower is tender. Add salt and pepper to taste and stir a few more times until everything is thoroughly mixed. |
| 3. | Serve while warm. Garnish with fresh chopped parsley if desired. |
| 4. | Notes: a large head of cauliflower is needed. To make the cauliflower rice, cut the cauliflower into florets and then briefly pulse in the food processor until they are the size of grains of rice. Frozen cauliflower rice can also be used. |
Nutrition summary
There are 208 calories in 1 serving of Garlic Parmesan Cauliflower Rice.
Calorie split: 64% fat, 14% carbs, 22% protein.
Nutrition Facts
Amount Per Serving
Calories
208
% Daily Values*
Total Fat
14.38g
18%
Saturated Fat
8.75g
44%
Trans Fat
0g
Polyunsaturated Fat
0g
Monounsaturated Fat
1.75g
Cholesterol
40mg
13%
Sodium
435mg
19%
Total Carbohydrate
6.89g
3%
Dietary Fiber
2.5g
9%
Sugars
2.5g
Protein
11.25g
Vitamin D
-
Calcium
0mg
0%
Iron
0.01mg
0%
Potassium
359mg
8%
Vitamin A
0mcg
0%
Vitamin C
0mg
0%
Related Recipe Collections
Related Recipes
Bacon Swiss Risotto
Salty, creamy, and delicious.
Per serve - Energy: 506kcal | Carb: 44.25g | Prot: 20.04g | Fat: 26.88g
Cauliflower Cheese Sticks
You don't need bread to have cheese sticks.
Per serve - Energy: 47kcal | Carb: 4.24g | Prot: 3.47g | Fat: 2.21g
Garlic Ranch Mashed Potatoes
The key is to boil the garlic with the potatoes.
Per serve - Energy: 119kcal | Carb: 19.37g | Prot: 2.78g | Fat: 3.34g
Cauliflower Soup II
Cauliflower soup with turkey bacon and cheddar cheese.
Per serve - Energy: 211kcal | Carb: 18.58g | Prot: 10.73g | Fat: 12.33g
Mock Potato Soup II
It looks like and tastes like potato soup, but it's cauliflower.
Per serve - Energy: 221kcal | Carb: 8.70g | Prot: 9.55g | Fat: 17.30g
Cauliflower Bake
A warming cauliflower, potato and leek casserole.
Per serve - Energy: 157kcal | Carb: 15.41g | Prot: 8.05g | Fat: 7.51g