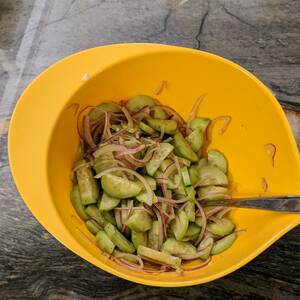 Ingredients
Directions
Peel and slice cucumbers. Add to bowl.
Thinly slice half a large red onion. Add to bowl.
Drizzle oil and vinegar over mixture. Add salt and pepper to taste.
Toss and serve.
Nutrition summary
There are 114 calories in 1 serving of Cucumber Salad.
Calorie split: 80% fat, 17% carbs, 3% protein.
Related Recipe Collections
Related Recipes
Spinach Salad with Chicken
A quick spinach salad with skinless chicken.
Per serve - Energy: 380kcal | Carb: 38.86g | Prot: 19.58g | Fat: 19.01g
Gazpacho II
A low fat cold tomato soup.
Per serve - Energy: 194kcal | Carb: 24.06g | Prot: 5.51g | Fat: 3.00g
Cucumber Pepper Salad
Light, refreshing salad to pair with protein.
Per serve - Energy: 88kcal | Carb: 14.11g | Prot: 1.02g | Fat: 3.77g
Tomato & Cucumber Balsamic Pasta Salad
Pasta salad made with tomatoes, cucumbers and red onion with balsamic vinegar as a base.
Per serve - Energy: 140kcal | Carb: 24.90g | Prot: 3.66g | Fat: 3.77g
Gazpacho
This medley of vegetables goes well with anything, is delicious and has almost no calories! It is a great way to enjoy eating your vegetables!
Per serve - Energy: 22kcal | Carb: 4.27g | Prot: 0.60g | Fat: 0.06g