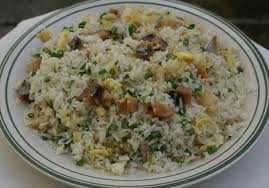 Chicken Fried Rice II
A versatile, tasty way to get a warm meal quickly.
| Servings | Prep Time | Cook Time |
| --- | --- | --- |
| 1 | 5 mins | 15 mins |
Directions
| | |
| --- | --- |
| 1. | Have 1/2 cup cooked rice ready before starting to cook the rest of the ingredients, use a rice cooker or instant brown rice. |
| 2. | Take 1/2 boneless skinless chicken breast and cut into bite size pieces. Heat non-stick skillet 8" or larger on slightly higher than medium for at least 1 minute, then add a small amount of the liquid amino (like Bragg's) and the cut chicken. |
| 3. | Cook until just cooked through (about 4-5 minutes) turning over at least once. Set aside. |
| 4. | Beat egg in bowl. Using the same pan; if there seems to be about 1 tbsp of fluid left over from cooking the chicken add egg, if not add a little more liquid amino. |
| 5. | Cook egg flat until top is firm enough to flip over. Use spatula to chop up the egg in the pan into small bite size strips and immediately add cooked rice and the chicken. Add liquid amino, garlic, ginger and pepper. If the dish seems dry you can add small amounts of warm water. |
| 6. | Once everything is tossed reasonably together, place in your favorite bowl and enjoy! It can always be placed in a storage container for a quick delicious meal later (make sure to let it cool before placing the lid on and storing in the fridge). |
| 7. | Variations: the powdered spices in this recipe are for time saving purposes, so play with them. Use fresh spices or even add some of your own. For a meat free version use a larger skillet to cook 2-3 eggs and add any vegetables you like in place of the meat. This dish is also nice with broccoli and a firm tofu. Also, alternative grains can be used such as a mix of brown, basmati, jasmine, and wild rice; or quinoa or millet instead. |
| 8. | Note: you can also make this in even larger batch to portion and freeze for later use. |
Nutrition summary
There are 323 calories in 1 serving of Chicken Fried Rice II.
Calorie split: 21% fat, 32% carbs, 47% protein.
Nutrition Facts
Amount Per Serving
Calories
323
% Daily Values*
Total Fat
7.28g
9%
Saturated Fat
2.112g
11%
Trans Fat
0.03g
Polyunsaturated Fat
1.314g
Monounsaturated Fat
2.56g
Cholesterol
280mg
93%
Sodium
1172mg
51%
Total Carbohydrate
25.31g
9%
Dietary Fiber
2g
7%
Sugars
0.73g
Protein
36.33g
Vitamin D
0mcg
0%
Calcium
53mg
4%
Iron
2.65mg
15%
Potassium
482mg
10%
Vitamin A
77mcg
9%
Vitamin C
1.6mg
2%
Related Recipe Collections
Related Recipes
Buttermilk Biscuits
Soft, homemade biscuits using only 5 ingredients.
Per serve - Energy: 353kcal | Carb: 39.91g | Prot: 6.40g | Fat: 17.58g
Brown Rice Risotto
A vegan, low-calorie dish bursting with flavors.
Per serve - Energy: 128kcal | Carb: 19.57g | Prot: 4.45g | Fat: 4.01g
Sausage and Shrimp Gumbo
A classic, flavorful Cajun dish.
Per serve - Energy: 274kcal | Carb: 35.05g | Prot: 9.51g | Fat: 10.75g
Turkey Taco Skillet
One pot taco skillet.
Per serve - Energy: 196kcal | Carb: 37.09g | Prot: 8.36g | Fat: 2.84g
Spicy Thai Peanut Chicken over Rice
This is a very tasty Asian-inspired dish made with chicken and broccoli in a spicy peanut sauce.
Per serve - Energy: 261kcal | Carb: 23.41g | Prot: 22.00g | Fat: 9.73g