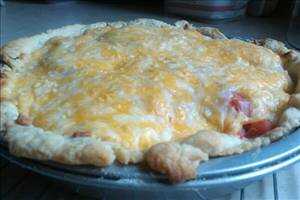 Cheesy Tomato Pie
A savory pie that takes advantage of all the ripe tomatoes late summer.
| Servings | Prep Time | Cook Time |
| --- | --- | --- |
| 6 | 30 mins | 45 mins |
Directions
| | |
| --- | --- |
| 1. | First peel and slice the tomatoes and lay down on a few sheets of paper towels and let sit for at least ten minutes. |
| 2. | While drying, make the pie crust. Using a pastry blender or fork, cut the shortening into the flour until the clumps are pea sized. Then one tablespoon at a time, add cold water to the mixture and lightly mix with a fork. Keep adding water until the dough starts to pull together and is moistened throughout. Roll the dough out on a lightly floured surface and roll into a 9 inch deep dish pie crust. Crimp the sides up and back for 15 minutes in a 450 °F (220 °C) oven. |
| 3. | Once the pie is baked, turn the oven down to 350 °F (175 °C). Then, take the tomato slices and layer tomatoes and a teaspoon of basil. Keep layering until all the tomatoes are in. |
| 4. | Combine cheeses and mayonnaise. Spoon over tomatoes and spread out evenly. |
| 5. | Bake for 20-25 minutes or until the top is lightly browned. Can be served hot or room temperature. |
Nutrition summary
There are 301 calories in 1 serving of Cheesy Tomato Pie.
Calorie split: 50% fat, 38% carbs, 12% protein.
Nutrition Facts
Amount Per Serving
Calories
300
% Daily Values*
Total Fat
16.94g
22%
Saturated Fat
3.687g
18%
Trans Fat
0g
Polyunsaturated Fat
4.407g
Monounsaturated Fat
6.439g
Cholesterol
13mg
4%
Sodium
190mg
8%
Total Carbohydrate
28.96g
11%
Dietary Fiber
2.1g
8%
Sugars
2.48g
Protein
9.08g
Vitamin D
-
Calcium
21mg
2%
Iron
1.84mg
10%
Potassium
261mg
6%
Vitamin A
40mcg
4%
Vitamin C
11.8mg
13%
Related Recipe Collections
Related Recipes
Vegan Pizza
Vegan pizza with a variety of vegetables.
Per serve - Energy: 328kcal | Carb: 65.24g | Prot: 13.03g | Fat: 1.58g
Roasted Veggie Dinner
Roasted veggies are wonderful for dinner.
Per serve - Energy: 321kcal | Carb: 49.34g | Prot: 14.13g | Fat: 11.50g
12" Thin Pizza Dough Crust
A 12" light dough rolled to 1/8" thickness to be baked with your favorite toppings.
Per serve - Energy: 77kcal | Carb: 13.75g | Prot: 1.88g | Fat: 1.69g
Chicken Pot Pie in a Biscuit
All the same flavors of chicken pot pie, but in individual servings.
Per serve - Energy: 251kcal | Carb: 32.08g | Prot: 10.67g | Fat: 8.56g
Chicken & Dressing
A slow cooker chicken recipe.
Per serve - Energy: 306kcal | Carb: 27.30g | Prot: 29.05g | Fat: 9.13g
Creamy Vegetable Pasta
Whole wheat spaghetti with mushrooms, red peppers and zucchini in a creamy parmesan sauce.
Per serve - Energy: 324kcal | Carb: 45.83g | Prot: 15.20g | Fat: 10.76g