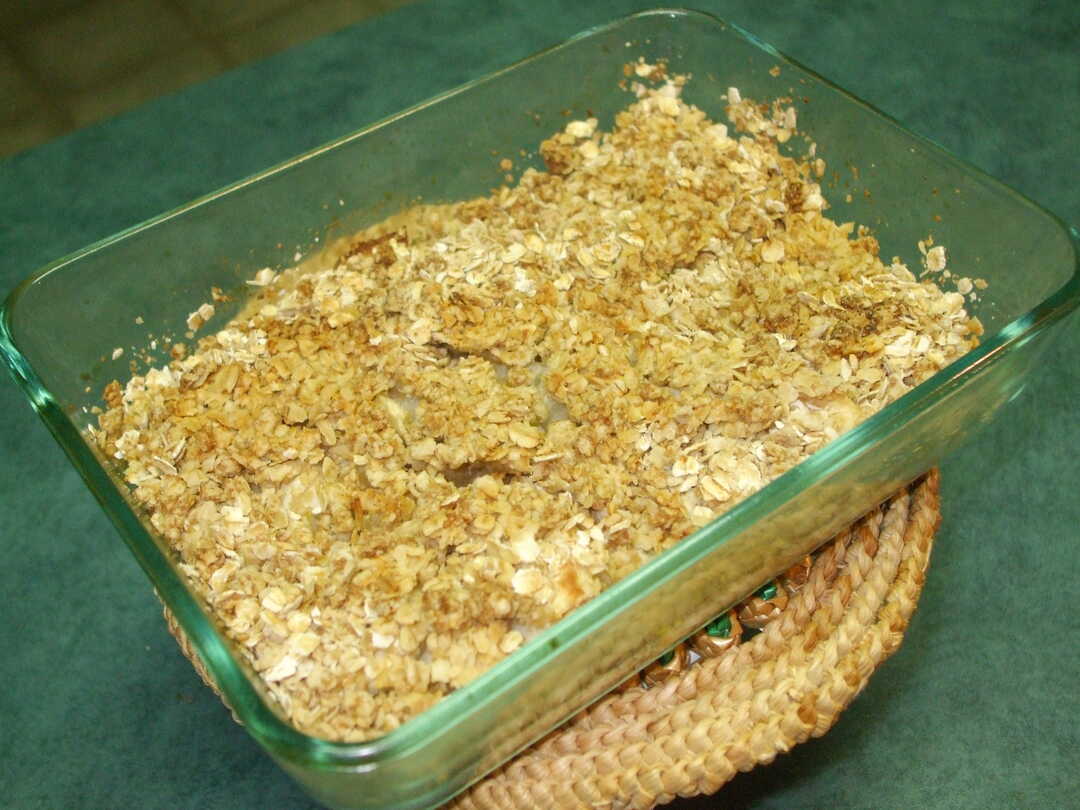 Apple Crisp
A simple no fat, lower calorie crisp that can be prepared in minutes. This recipe has been designed with a smaller household in mind.
| Servings | Prep Time | Cook Time |
| --- | --- | --- |
| 4 | 10 mins | 45 mins |
Directions
| | |
| --- | --- |
| 1. | Preheat toaster oven to 350 °F (175 °C). Lightly spray a 5"x7 Pyrex type baking dish with cooking spray. |
| 2. | Peel, core and slice apples to equal 10 oz by weight. Place in a container with a lid and sprinkle with white sugar, lemon juice and cinnamon. Put the lid on the container and shake it to coat the apple slices. Arrange the coated apple slices in the bottom of the baking dish. |
| 3. | Put the oats and Splenda brown sugar in another lidded container. Put the lid on and shake the container vigorously. Open the container and break up any sugar lumps with your fingers. Sprinkle the oat mixture on top of the apples. |
| 4. | Cover the dish with foil, shiny side down, and bake for 45 minutes or until the apples are tender. If you wish a crunchier topping, remove the foil at the 30 minute mark. |
| 5. | Cool on a rack before putting it in the refrigerator. |
| 6. | Note: using real sugar instead of a sweetener makes the apples juicier when baked. If calories aren't an issue, add 1 tbsp of melted butter or margarine to the container prior to shaking in step 3. |
Nutrition summary
There are 99 calories in 1 serving of Apple Crisp.
Calorie split: 8% fat, 86% carbs, 6% protein.
Nutrition Facts
Amount Per Serving
Calories
99
% Daily Values*
Total Fat
0.9g
1%
Saturated Fat
0.15g
1%
Trans Fat
0g
Polyunsaturated Fat
0.292g
Monounsaturated Fat
0.258g
Cholesterol
0mg
0%
Sodium
2mg
0%
Total Carbohydrate
22.25g
8%
Dietary Fiber
3g
11%
Sugars
12.72g
Protein
1.47g
Vitamin D
-
Calcium
12mg
1%
Iron
0.31mg
2%
Potassium
118mg
3%
Vitamin A
2mcg
0%
Vitamin C
4.4mg
5%
Related Recipe Collections
Related Recipes
Broccoli Berry Salad
Healthy dish, rich in vitamin C.
Per serve - Energy: 277kcal | Carb: 45.96g | Prot: 10.58g | Fat: 8.58g
Apple and Spinach Salad
A nutritious, low-calorie dish.
Per serve - Energy: 125kcal | Carb: 19.97g | Prot: 2.14g | Fat: 5.19g
Romaine Blueberry Salad
A delightful and satisfying dish.
Per serve - Energy: 404kcal | Carb: 20.01g | Prot: 12.36g | Fat: 30.68g
Apple Pecan Salad
An easy-to-prepare dish for snack.
Per serve - Energy: 592kcal | Carb: 73.79g | Prot: 13.27g | Fat: 27.68g
Green Juice
A low-calorie beverage loaded with nutrients.
Per serve - Energy: 217kcal | Carb: 55.33g | Prot: 4.25g | Fat: 1.18g
Apple Pumpkin Muffins
Vegan baked goods, perfect as grab-and-go breakfast.
Per serve - Energy: 201kcal | Carb: 40.80g | Prot: 4.53g | Fat: 2.36g