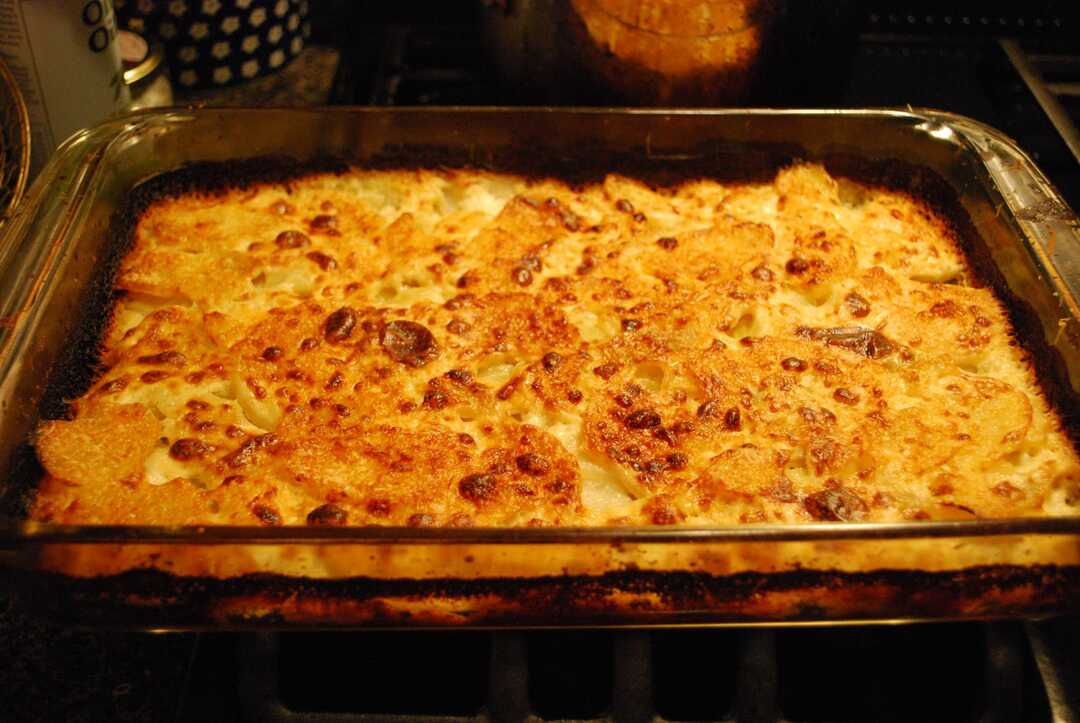 Rutabaga & Chicken Casserole
Great for LCHF and Atkins.
| Servings | Prep Time | Cook Time |
| --- | --- | --- |
| 8 | 10 mins | 1 hr 30 mins |
Directions
| | |
| --- | --- |
| 1. | Peel the rutabaga and cut it first in half then in slices of about 1/4". Clean and wash the chicken thighs. In a pot, boil together the chicken and rutabaga until the meat starts falling off the bone. |
| 2. | With a straining spoon, take out the chicken and rutabaga from the pot. Let drain some. Separate the meat off the bones, remove skin and cartilages. Break apart the meat in about 1" pieces by hand or use a knife. Separate rutabaga slices in a plate or bowl. |
| 3. | Whip the egg with the heavy cream and about 1/2 cup of the broth in which the chicken and rutabaga have boiled. Mix in half of the shredded cheese and salt to taste. If you like your casserole to be thicker, you can add 1/2 tsp xanthan gum. |
| 4. | In a casserole dish or an oven-proof oven, start layering the the chicken meat and distribute evenly. On top of the chicken meat layer the rutabaga slices. Pour the egg mixture and shake the pot a little to make sure the mixture went all in between meat and rutabagas. |
| 5. | Bake in the oven at 400 °F (205 °C) for about 15 minutes. Take out of the oven, sprinkle the remaining cheese on top distributing evenly, and bacon bits then bake for another 10-15 minutes until the cheese on top is melted and bubbly. |
Nutrition summary
There are 161 calories in 1 serving of Rutabaga & Chicken Casserole.
Calorie split: 51% fat, 22% carbs, 26% protein.
Nutrition Facts
Amount Per Serving
Calories
161
% Daily Values*
Total Fat
9.3g
12%
Saturated Fat
3.32g
17%
Trans Fat
0g
Polyunsaturated Fat
1.188g
Monounsaturated Fat
2.092g
Cholesterol
65mg
22%
Sodium
331mg
14%
Total Carbohydrate
9.14g
3%
Dietary Fiber
2.4g
9%
Sugars
5.45g
Protein
10.77g
Vitamin D
-
Calcium
52mg
4%
Iron
1.02mg
6%
Potassium
400mg
9%
Vitamin A
24mcg
3%
Vitamin C
24.1mg
27%
Related Recipe Collections
Related Recipes
Stuffed Jalapenos
Peppers filled with cheese wrapped in bacon.
Per serve - Energy: 111kcal | Carb: 1.08g | Prot: 3.79g | Fat: 10.35g
Quick Quiche
No crust quiche.
Per serve - Energy: 237kcal | Carb: 12.07g | Prot: 14.47g | Fat: 13.95g
Loaded Cauliflower
Low calorie loaded "potato".
Per serve - Energy: 197kcal | Carb: 12.96g | Prot: 11.44g | Fat: 12.48g
Cheeseburger Casserole III
Casserole that uses meat, bacon, eggs, heavy cream and of course cheese.
Per serve - Energy: 816kcal | Carb: 7.33g | Prot: 43.93g | Fat: 68.33g
Spaghetti Squash Casserole
Low carb/keto meal using spaghetti squash.
Per serve - Energy: 504kcal | Carb: 13.15g | Prot: 33.20g | Fat: 34.33g