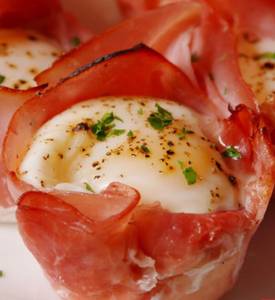 Low Carb Ham & Egg Boats
Very tasty breakfast.
Servings: 1
Prep Time: 5 mins
Cook Time: 14 mins
Average Rating:
Ingredients
Directions
Preheat oven to 400 °F (205 °C). Get muffin pan, spray oil of choice. Lay ham in there to make a cup
Break egg and pour into ham cup. Sprinkle cheese over egg.
Add salt & pepper to taste, then bake in oven for 10-15 minutes.
Nutrition summary
There are 195 calories in 1 serving of Low Carb Ham & Egg Boats.
Calorie split: 61% fat, 4% carbs, 35% protein.
Related Recipe Collections
Related Recipes
Egg Casserole
Eggs, ham, veggies and cheese make up this yummy casserole.
Per serve - Energy: 177kcal | Carb: 15.16g | Prot: 20.10g | Fat: 2.57g
Mock Potato Soup II
It looks like and tastes like potato soup, but it's cauliflower.
Per serve - Energy: 221kcal | Carb: 8.70g | Prot: 9.55g | Fat: 17.30g
Sausage Frittata II
A tasty hot sausage frittata, perfect for any time of the day.
Per serve - Energy: 270kcal | Carb: 1.79g | Prot: 14.60g | Fat: 21.88g
Ham & Pepperoni Pizza
Low carb pizza that can be topped with your favorite toppings.
Per serve - Energy: 321kcal | Carb: 5.20g | Prot: 23.37g | Fat: 22.46g
Cheesy Ham Roll-ups
Ham, cream cheese and veggie roll-ups for lunch or a snack.
Per serve - Energy: 282kcal | Carb: 14.83g | Prot: 11.68g | Fat: 20.39g
Cheese & Ham Toastie
Grilled wholemeal pita bread filled cheddar cheese and sliced ham.
Per serve - Energy: 288kcal | Carb: 39.49g | Prot: 18.81g | Fat: 7.10g