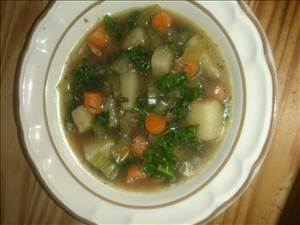 Kale Soup
Fast kale soup.
Servings: 6
Prep Time: 10 mins
Cook Time: 30 mins
Average Rating:
Ingredients
Directions
Saute onion and garlic in coconut oil for 5 minutes
Add chicken stock, carrots and celery and bring to a boil.
Add potatoes and simmer for 15 minutes.
Add Italian seasoning and kale. Cook for 5-10 more minutes.
Nutrition summary
There are 120 calories in 1 serving of Kale Soup.
Calorie split: 21% fat, 67% carbs, 12% protein.
Related Recipe Collections
Related Recipes
Super Summer Kale Salad
Fresh kale salad with blueberries and nuts.
Per serve - Energy: 249kcal | Carb: 28.58g | Prot: 4.20g | Fat: 15.08g
Turkey Slow Cooker Chili
Chili made with ground turkey in slow cooker.
Per serve - Energy: 362kcal | Carb: 34.94g | Prot: 26.58g | Fat: 13.06g
Fish Stew Brodetto
Broth based fish stew.
Per serve - Energy: 282kcal | Carb: 17.01g | Prot: 24.02g | Fat: 9.19g
Cabbage Stir-Fry
Stir-fry dish with veggies and turkey sausage.
Per serve - Energy: 186kcal | Carb: 18.98g | Prot: 11.51g | Fat: 8.70g