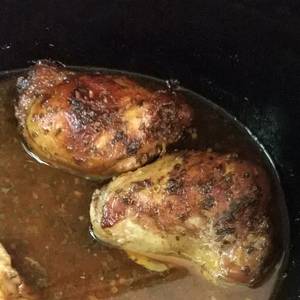 Honey Garlic Chicken
An easy crock-pot meal.
Servings: 6
Prep Time: 10 mins
Cook Time: 4 hrs
Ingredients
Directions
Mix all ingredients together except chicken.
Place chicken in crock-pot.
Pour mixture over chicken.
Cook for 4-5 hours on low or 3 hours on high.
Nutrition summary
There are 361 calories in 1 serving of Honey Garlic Chicken.
Calorie split: 52% fat, 27% carbs, 21% protein.
Related Recipe Collections
Related Recipes
Chicken Stir-Fry II
A quick, easy, tasty stir-fry.
Per serve - Energy: 230kcal | Carb: 19.10g | Prot: 18.52g | Fat: 8.62g
Barbecued Chicken
Flavorsome baked chicken that will have the whole family asking for more please.
Per serve - Energy: 220kcal | Carb: 7.24g | Prot: 35.00g | Fat: 4.81g
Poulet Moutarde
Chicken thighs in a delicious creamy Dijon mustard sauce.
Per serve - Energy: 382kcal | Carb: 7.98g | Prot: 53.80g | Fat: 19.99g
Chicken Ratatouille
Served over rice, this delicious dish is loaded with vegetables and skinless chicken breasts.
Per serve - Energy: 396kcal | Carb: 22.89g | Prot: 60.98g | Fat: 7.45g
Chicken Marsala
Plenty of delicious flavor without too much fat or salt.
Per serve - Energy: 357kcal | Carb: 8.72g | Prot: 56.40g | Fat: 6.78g