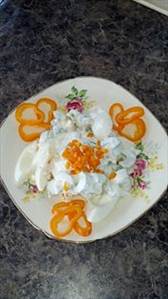 Egg & Celery Salad
A low carb salad.
Servings: 1
Prep Time: 13 mins
Cook Time: 8 mins
Average Rating:
Ingredients
Directions
Chop egg and mix with the celery in a small bowl.
Mix the mayonnaise, sour cream and 2 tablespoons of cold water together.
Mix together and chill well.
Note: serves one as is or two mixed with other salad vegetables.
Nutrition summary
There are 382 calories in 1 serving of Egg & Celery Salad.
Calorie split: 77% fat, 7% carbs, 16% protein.
Related Recipe Collections
Related Recipes
Arugula Skirt Steak Salad
A salad of arugula steak and red onion.
Per serve - Energy: 468kcal | Carb: 12.36g | Prot: 30.44g | Fat: 32.64g
"Mac" & Cheese
Cauliflower mac and cheese.
Per serve - Energy: 383kcal | Carb: 10.98g | Prot: 17.66g | Fat: 31.14g
Creamed Brussels Sprouts
A rich creamy side dish.
Per serve - Energy: 353kcal | Carb: 5.65g | Prot: 12.77g | Fat: 32.18g
Cheeseburger Casserole III
Casserole that uses meat, bacon, eggs, heavy cream and of course cheese.
Per serve - Energy: 816kcal | Carb: 7.33g | Prot: 43.93g | Fat: 68.33g
Creamy Blue Cuke Salad
Creamy cucumber salad with blue cheese and dill.
Per serve - Energy: 64kcal | Carb: 3.44g | Prot: 2.21g | Fat: 4.89g
Chicken Scampi
Low carb and gluten free.
Per serve - Energy: 547kcal | Carb: 7.58g | Prot: 30.00g | Fat: 43.00g