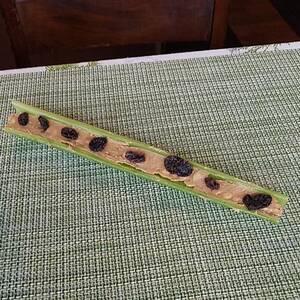 Celery with PB & Raisins
Ants on the log.
Servings: 1
Prep Time: 1 min
Ingredients
Directions
Wash celery.
Spread peanut butter.
Add raisins.
Nutrition summary
There are 115 calories in 1 serving of Celery with PB & Raisins.
Calorie split: 59% fat, 27% carbs, 14% protein.
Related Recipe Collections
Related Recipes
Potato and Leek Soup
Hearty winter soup that's very filling.
Per serve - Energy: 188kcal | Carb: 36.39g | Prot: 4.36g | Fat: 3.22g
Chicken and Sweetcorn Soup
The whole family will love this delicious hearty soup.
Per serve - Energy: 382kcal | Carb: 63.28g | Prot: 20.49g | Fat: 7.01g
Tomato and Red Lentil Soup
A lovely hearty tomato and red lentil soup that the whole family can enjoy.
Per serve - Energy: 264kcal | Carb: 34.03g | Prot: 12.01g | Fat: 10.52g
Curried Pumpkin Soup
Tasty and healthy pumpkin soup with a nice edge from the curry powder.
Per serve - Energy: 138kcal | Carb: 27.08g | Prot: 4.25g | Fat: 3.44g