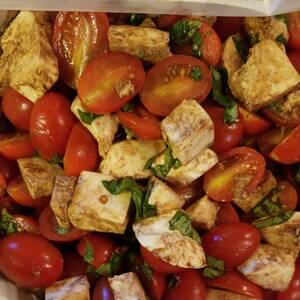 Ingredients
Directions
Slice tomatoes in half.
Slice mozzarella in chunks.
Slice basil in thin slivers.
Mix in bowl and toss with balsamic vinegar.
Let marinate before serving.
Nutrition summary
There are 119 calories in 1 serving of Caprese Salad.
Calorie split: 52% fat, 22% carbs, 25% protein.
Related Recipe Collections
Related Recipes
Goat Cheese Pizza with Red Pepper & Spinach
A favorite for pizza (cheat) night. Cheat because sodium and carb level are a bit high, but we all desire a weekly cheat night.
Per serve - Energy: 403kcal | Carb: 32.57g | Prot: 19.73g | Fat: 22.17g
Green Chili Cheeseburger
Most fast-food burgers' calories are rising up. This recipe uses a lean and tasty cut of beef, and uses flavor-packed condiments.
Per serve - Energy: 270kcal | Carb: 30.24g | Prot: 17.70g | Fat: 9.38g
Cauliflower Bake
A warming cauliflower, potato and leek casserole.
Per serve - Energy: 157kcal | Carb: 15.41g | Prot: 8.05g | Fat: 7.51g
Eggplant Parmesan
Delicious, low-fat eggplant parmesan. The eggplant is baked instead of fried to keep it low-fat.
Per serve - Energy: 172kcal | Carb: 20.45g | Prot: 9.33g | Fat: 6.46g
Roasted Tomato Canoes
As an appetizer or light entree these are delicious.
Per serve - Energy: 164kcal | Carb: 12.66g | Prot: 5.42g | Fat: 10.69g