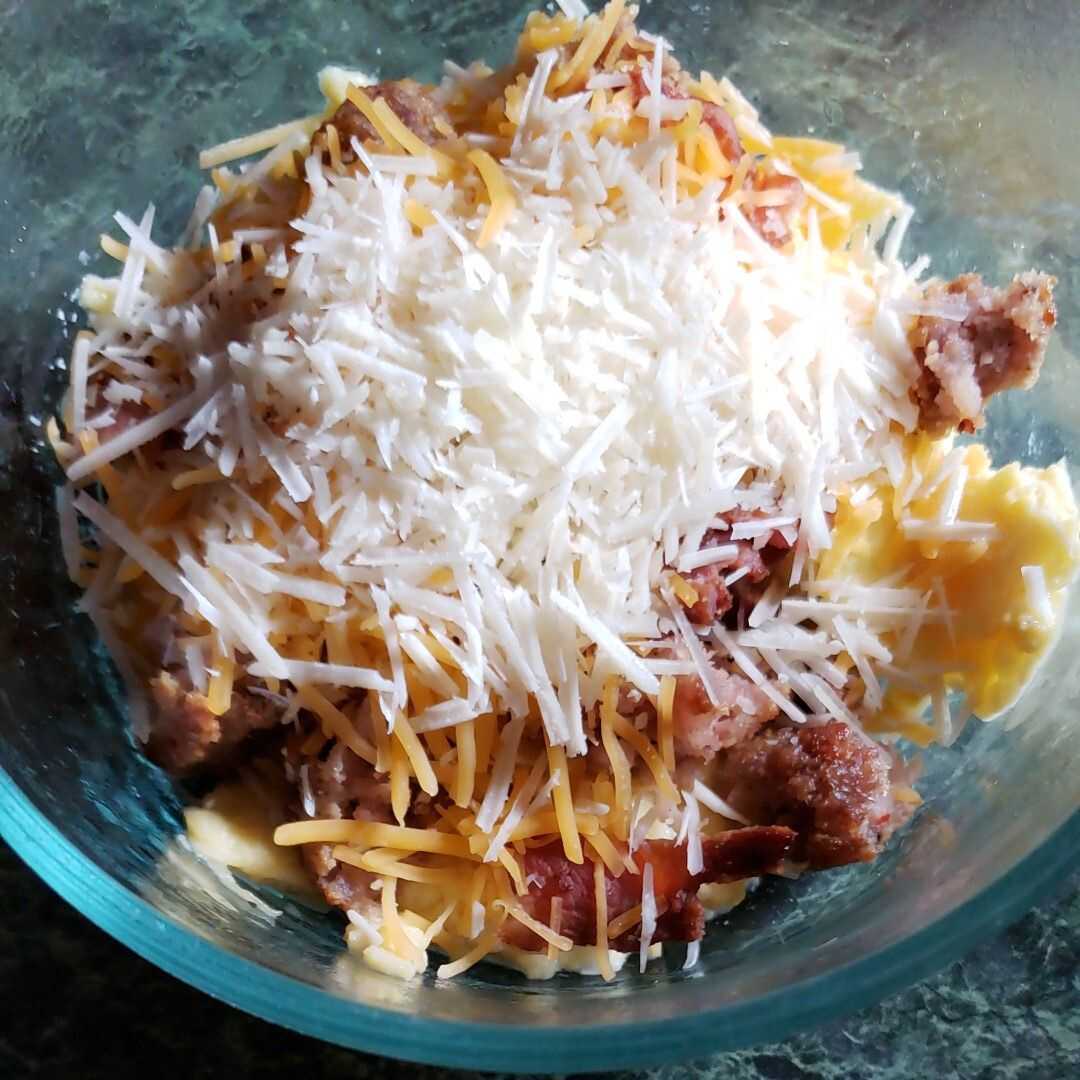 Keto and low carb.
| Servings | Prep Time | Cook Time |
| --- | --- | --- |
| 6 | 15 mins | 30 mins |
Directions
| | |
| --- | --- |
| 1. | Cook bacon in oven, pan or microwave until crispy. Place on plate covered with a paper towel to absorb grease. |
| 2. | Cook sausage in pan either crumbled or in patties until done. Place on plate covered with a paper towel to absorb grease. |
| 3. | Crack eggs into a large measuring cup or bowl. Add egg whites, heavy cream, salt and pepper, then whisk until well blended. |
| 4. | Spray large pan with olive oil cooking spray. Turn large stove eye on to medium-low or 2.8-3 on digital stove. Add water to pan. |
| 5. | Pour egg mixture into pan. Once starts to firm, start scraping the eggs to the center and allow raw egg mixture to fill in around them. Continue to do this until all egg mixture is firm. Cut the eggs into 6 squares and flip over to ensure done on both sides. |
| 6. | Place a square of eggs into a bowl and then top with crumbled sausage, bacon, cheddar and Parmesan cheese. |
| 7. | Note: switch out cheese for any kind you like. Switch out sausage and bacon for turkey sausage and bacon, or Canadian bacon or ham. Top with chopped tomato, onion, peppers, mushroom, salsa or pico de gallo. |
Nutrition summary
There are 333 calories in 1 serving of Breakfast Bowl with Eggs, Cheese, Bacon & Sausage.
Calorie split: 70% fat, 1% carbs, 28% protein.
Nutrition Facts
Amount Per Serving
Calories
333
% Daily Values*
Total Fat
26.05g
33%
Saturated Fat
9.997g
50%
Trans Fat
0g
Polyunsaturated Fat
1.204g
Monounsaturated Fat
3.596g
Cholesterol
294mg
98%
Sodium
825mg
36%
Total Carbohydrate
1.19g
0%
Dietary Fiber
0g
0%
Sugars
0.68g
Protein
23.66g
Vitamin D
-
Calcium
7mg
1%
Iron
0.03mg
0%
Potassium
25mg
1%
Vitamin A
41mcg
5%
Vitamin C
0.1mg
0%
Related Recipe Collections
Related Recipes
Bacon, Egg & Cheese Frittata
Easy peasy, delicious bacon, egg and cheese frittata.
Per serve - Energy: 302kcal | Carb: 13.89g | Prot: 28.35g | Fat: 14.95g
Pizza Frittata
Frittata with sausage, pepperoni, eggs, heavy cream, and tomato.
Per serve - Energy: 119kcal | Carb: 2.37g | Prot: 8.00g | Fat: 8.47g
Chicken & Bacon Veggie Soup
A low carb soup with the deliciousness of chicken and bacon.
Per serve - Energy: 322kcal | Carb: 3.76g | Prot: 15.14g | Fat: 25.23g
Sausage Frittata II
A tasty hot sausage frittata, perfect for any time of the day.
Per serve - Energy: 270kcal | Carb: 1.79g | Prot: 14.60g | Fat: 21.88g
Sausage Cheese Balls
Wonderful as a snack.
Per serve - Energy: 183kcal | Carb: 0.15g | Prot: 9.66g | Fat: 15.78g