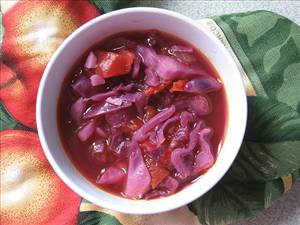 Bavarian Red Cabbage
A hearty meal.
Servings: 6
Average Rating:
Ingredients
Directions
Shred the apples (with peel) and cabbage (about a 3 pound head).
Put the cabbage, apples, bay leaves, cloves, ginger, salt, sugar, broth, franks (along with any juices from the package) into a crock pot.
Simmer on low all day. Adjust temperature depending on how long you need it to cook.
If cooking on a stove top, heat some oil in a large, heavy soup kettle. Add the cabbage and brown for about 4 to 6 minutes, stirring occasionally. Add the apples, bay leaves, cloves, ginger, salt, sugar, and broth. Bring to a boil; reduce heat, cover and simmer for 30 minutes.
Remove and discard the bay leaves. Stir in the lemon juice.
Note: recipe adapted from the American Dietetic Association Cooking Healthy Across America Cookbook.
Nutrition summary
There are 290 calories in 1 serving of Bavarian Red Cabbage.
Calorie split: 14% fat, 56% carbs, 30% protein.
Related Recipe Collections
Related Recipes
Italian Cabbage
A great side dish or lunch option.
Per serve - Energy: 218kcal | Carb: 11.30g | Prot: 12.05g | Fat: 13.16g
German Sausage
Kielbasa and sauerkraut skillet.
Per serve - Energy: 443kcal | Carb: 32.21g | Prot: 13.31g | Fat: 30.34g
Cabbage Soup II
Light soup with fresh veggies.
Per serve - Energy: 45kcal | Carb: 9.29g | Prot: 2.08g | Fat: 0.23g
Cabbage Stir-Fry
Stir-fry dish with veggies and turkey sausage.
Per serve - Energy: 186kcal | Carb: 18.98g | Prot: 11.51g | Fat: 8.70g
Keto Veggies & Eggs
Keto veggies and eggs with asparagus, bok choy and cabbage.
Per serve - Energy: 416kcal | Carb: 9.20g | Prot: 16.03g | Fat: 36.25g