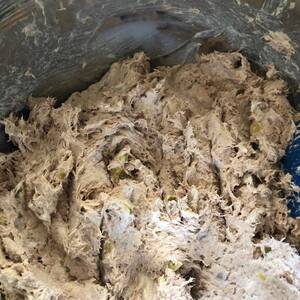 Tuna Salad IV
Tuna with cream cheese.
Servings: 16
Prep Time: 20 mins
Ingredients
Directions
Drain tuna cans.
Mix cream cheese with tuna in a large mixing bowl.
Mix relish in tuna and cream cheese and season to taste.
Serve as desired.
Nutrition summary
There are 140 calories in 1 serving of Tuna Salad IV.
Calorie split: 45% fat, 4% carbs, 51% protein.
Related Recipe Collections
Related Recipes
Tuna Patties
Tasty tuna patties that are full of protein.
Per serve - Energy: 271kcal | Carb: 1.91g | Prot: 48.59g | Fat: 6.34g
Lemon Pepper Tuna Salad
Tasty, easy lunch that's super healthy.
Per serve - Energy: 387kcal | Carb: 13.32g | Prot: 46.87g | Fat: 16.87g
Sauteed Tuna and Spinach
Great protein for a quick meal.
Per serve - Energy: 256kcal | Carb: 6.27g | Prot: 23.71g | Fat: 14.45g
Tuna Patties II
Tuna patties that everyone will love.
Per serve - Energy: 184kcal | Carb: 3.69g | Prot: 24.68g | Fat: 7.38g
Tuna Salad
This tuna salad for one is a great quick lunch or snack for work or on the go.
Per serve - Energy: 306kcal | Carb: 36.25g | Prot: 21.60g | Fat: 9.51g
Mexican Tuna Salad
This Mexican tuna salad is delicious, full of color and fairly low carb.
Per serve - Energy: 310kcal | Carb: 14.19g | Prot: 31.68g | Fat: 13.83g