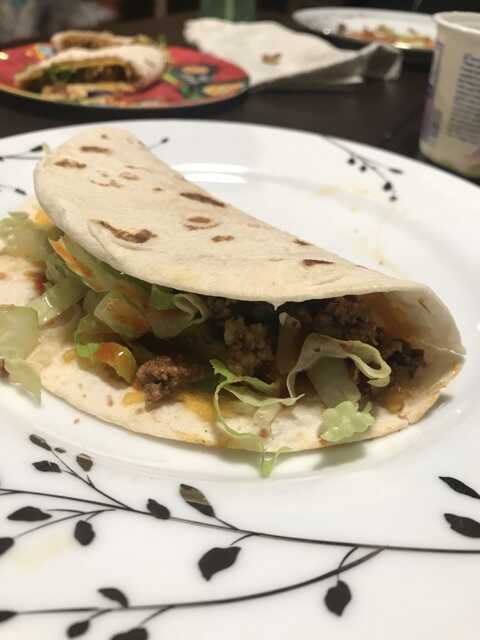 Taco Tuesday
Having a preschooler means taco Tuesdays are in demand.
| Servings | Prep Time | Cook Time |
| --- | --- | --- |
| 4 | 10 mins | 20 mins |
Directions
| | |
| --- | --- |
| 1. | Heat grapeseed oil in a large pan until shimmering. Add chopped onions. Saute until lightly browned. Add crumbled ground turkey, ground beef, and salt. Cook until fully browned. Remove from heat. |
| 2. | Drain excess oil from meat/onion mixture (blot with towels if easier). Preheat oven to 400 °F (205 °C). |
| 3. | Combine taco seasoning and meat mixture. Simmer for 10 minutes, stirring occasionally. |
| 4. | While meat is simmering, on one baking sheet, evenly space the taco shells. On another baking sheet, spread out flour tortillas and sprinkle with cheese (you may need to do this a second time). Place tortilla on bottom rack and shells on top rack. Warm in oven until cheese is melted approximately 5 minutes. |
| 5. | Put the cheesy tortillas carefully around the outside of the taco shell. Fill with whatever toppings you want. |
Nutrition summary
There are 688 calories in 1 serving of Taco Tuesday.
Calorie split: 40% fat, 42% carbs, 18% protein.
Nutrition Facts
Amount Per Serving
Calories
688
% Daily Values*
Total Fat
31.34g
40%
Saturated Fat
9.843g
49%
Trans Fat
0g
Polyunsaturated Fat
6.356g
Monounsaturated Fat
6.009g
Cholesterol
73mg
24%
Sodium
2040mg
89%
Total Carbohydrate
73.53g
27%
Dietary Fiber
6.4g
23%
Sugars
7.28g
Protein
32.42g
Vitamin D
-
Calcium
14mg
1%
Iron
0.64mg
4%
Potassium
134mg
3%
Vitamin A
0mcg
0%
Vitamin C
1.9mg
2%
Related Recipe Collections
Related Recipes
Cheese Stuffed Turkey Meatloaf
Anyway, you're a turkey if you don't go home and make this mozzarella stuffed turkey meatloaf for dinner.
Per serve - Energy: 215kcal | Carb: 10.20g | Prot: 22.92g | Fat: 9.31g
Green Chili Cheeseburger
Most fast-food burgers' calories are rising up. This recipe uses a lean and tasty cut of beef, and uses flavor-packed condiments.
Per serve - Energy: 270kcal | Carb: 30.24g | Prot: 17.70g | Fat: 9.38g
Turkey Pepperoni & Spinach Pizza
For all those pizza lovers out there a delicious turkey pepperoni and spinach pizza. Great for lunch or dinner.
Per serve - Energy: 270kcal | Carb: 23.00g | Prot: 24.50g | Fat: 12.50g
Turkey and Beef Chili
Hearty, warming chili with ground turkey and lean ground beef.
Per serve - Energy: 291kcal | Carb: 25.12g | Prot: 27.63g | Fat: 8.37g
Omni Loaf
A sure to be a hit meal with ground turkey, beef, vegetables and a lot more.
Per serve - Energy: 259kcal | Carb: 8.37g | Prot: 27.55g | Fat: 12.66g
Barbecued Burgers
Delicious turkey and beef burgers.
Per serve - Energy: 269kcal | Carb: 17.34g | Prot: 28.42g | Fat: 9.89g