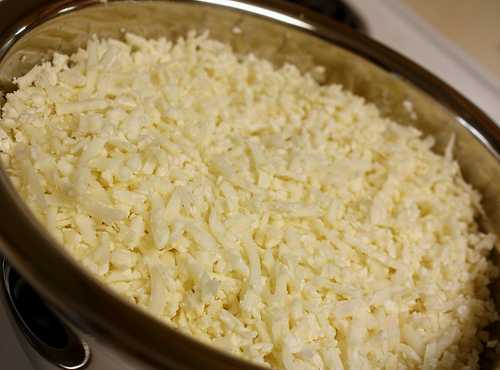 A mild tasting cauliflower "rice" dish that's well worth trying.
| Servings | Prep Time | Cook Time |
| --- | --- | --- |
| 6 | 5 mins | 5 mins |
Directions
| | |
| --- | --- |
| 1. | Process fresh cauliflower in a food processor using the shredder blade until it is the size of rice. Alternatively, shred it with a hand-held grater or even use a knife, if you have the dexterity to chop it up very finely. |
| 2. | Microwave it in a covered dish. Do not add water. Cauliflower absorbs water like crazy, and the "granules" will become gummy. To keep it fluffy, just let the moisture in the cauliflower do its work. |
| 3. | Serve with salt and pepper to taste as a replacement for rice. |
| 4. | Note: recipe can be used under a sauce, such as crab imperial or chicken ala king or as the base for a dish such as fried "rice" or a "rice" salad. It does not work well as a substitute for rice in casseroles where the function of the rice is to absorb liquid. |
Nutrition summary
There are 35 calories in 1 serving of Rice-like Cauliflower.
Calorie split: 3% fat, 71% carbs, 26% protein.
Nutrition Facts
Amount Per Serving
Calories
35
% Daily Values*
Total Fat
0.14g
0%
Saturated Fat
0.045g
0%
Trans Fat
-
Polyunsaturated Fat
0.139g
Monounsaturated Fat
0.02g
Cholesterol
0mg
0%
Sodium
68mg
3%
Total Carbohydrate
7.43g
3%
Dietary Fiber
3.5g
13%
Sugars
3.36g
Protein
2.77g
Vitamin D
-
Calcium
31mg
2%
Iron
0.62mg
3%
Potassium
424mg
9%
Vitamin A
1mcg
0%
Vitamin C
65mg
72%
Related Recipe Collections
Related Recipes
French Fries
Oven baked french fries.
Per serve - Energy: 203kcal | Carb: 39.29g | Prot: 4.75g | Fat: 3.74g
Chicken Stir Fry
Chicken, carrots, mushrooms and broccoli in a spicy sauce.
Per serve - Energy: 306kcal | Carb: 39.22g | Prot: 20.00g | Fat: 8.51g
"Mac" & Cheese
Cauliflower mac and cheese.
Per serve - Energy: 383kcal | Carb: 10.98g | Prot: 17.66g | Fat: 31.14g
Cauliflower with Dijon Sauce
Quick cauliflower side done in the microwave.
Per serve - Energy: 290kcal | Carb: 20.61g | Prot: 12.16g | Fat: 19.60g
Cauliflower Ceviche
A vegetarian ceviche that is easy to make.
Per serve - Energy: 132kcal | Carb: 8.77g | Prot: 2.52g | Fat: 10.86g
Garlic Parmesan Cauliflower Rice
Cauliflower rice is cooked with a garlic butter sauce and Parmesan cheese for a low carb, gluten free, delicious and easy dish.
Per serve - Energy: 208kcal | Carb: 6.89g | Prot: 11.25g | Fat: 14.38g