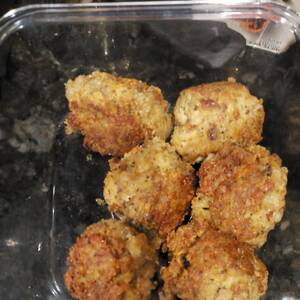 Pesto Chicken Balls
Yummy chicken balls.
Servings: 12
Prep Time: 20 mins
Cook Time: 15 mins
Ingredients
Directions
Mix all ingredients.
Cook on a skillet till browned.
Enjoy.
Nutrition summary
There are 84 calories in 1 serving of Pesto Chicken Balls.
Calorie split: 54% fat, 6% carbs, 40% protein.
Related Recipe Collections
Related Recipes
Chicken Caesar Burgers
A quick dinner recipe for nights when you are in a rush.
Per serve - Energy: 192kcal | Carb: 2.79g | Prot: 23.20g | Fat: 9.71g
Chicken & Bacon Veggie Soup
A low carb soup with the deliciousness of chicken and bacon.
Per serve - Energy: 322kcal | Carb: 3.76g | Prot: 15.14g | Fat: 25.23g
Cheesy Ham Roll-ups
Ham, cream cheese and veggie roll-ups for lunch or a snack.
Per serve - Energy: 283kcal | Carb: 14.83g | Prot: 11.68g | Fat: 20.39g
Cheese & Ham Toastie
Grilled wholemeal pita bread filled cheddar cheese and sliced ham.
Per serve - Energy: 288kcal | Carb: 39.48g | Prot: 18.81g | Fat: 7.09g
Sausage Cheese Balls
Wonderful as a snack.
Per serve - Energy: 183kcal | Carb: 0.15g | Prot: 9.66g | Fat: 15.78g