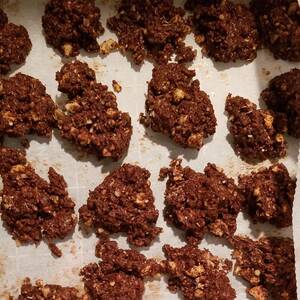 Ingredients
Directions
Chop pecans, granola, and coconut in food processor.
Melt peanut butter, chocolate, and sweetener of choice in microwave, stir until fully blended.
Mix together.
Drop spoonful's onto parchment or wax paper.
Nutrition summary
There are 144 calories in 1 serving of Keto No Bake Cookies.
Calorie split: 76% fat, 14% carbs, 11% protein.
Related Recipe Collections
Related Recipes
Peanut Butter Cookies III
These are healthy peanut butter cookies.
Per serve - Energy: 110kcal | Carb: 10.26g | Prot: 5.22g | Fat: 5.16g
Pumpkin Oatmeal Cookies
Sensational oatmeal cookies with pumpkin and blueberries.
Per serve - Energy: 42kcal | Carb: 8.15g | Prot: 1.52g | Fat: 0.65g
Soft Chocolate Chip Cookies
Delicious, easy to make version of the old favorite cookie.
Per serve - Energy: 112kcal | Carb: 10.30g | Prot: 1.86g | Fat: 7.82g
Gluten Free Peanut Butter Cookies
A very peanut buttery, non-gritty version of the flourless peanut butter cookie.
Per serve - Energy: 111kcal | Carb: 6.99g | Prot: 3.27g | Fat: 8.46g
Oatmeal Bacon Cookies
The ultimate breakfast cookie with eggs, bacon, oatmeal and cinnamon sugar.
Per serve - Energy: 171kcal | Carb: 19.93g | Prot: 3.35g | Fat: 8.89g