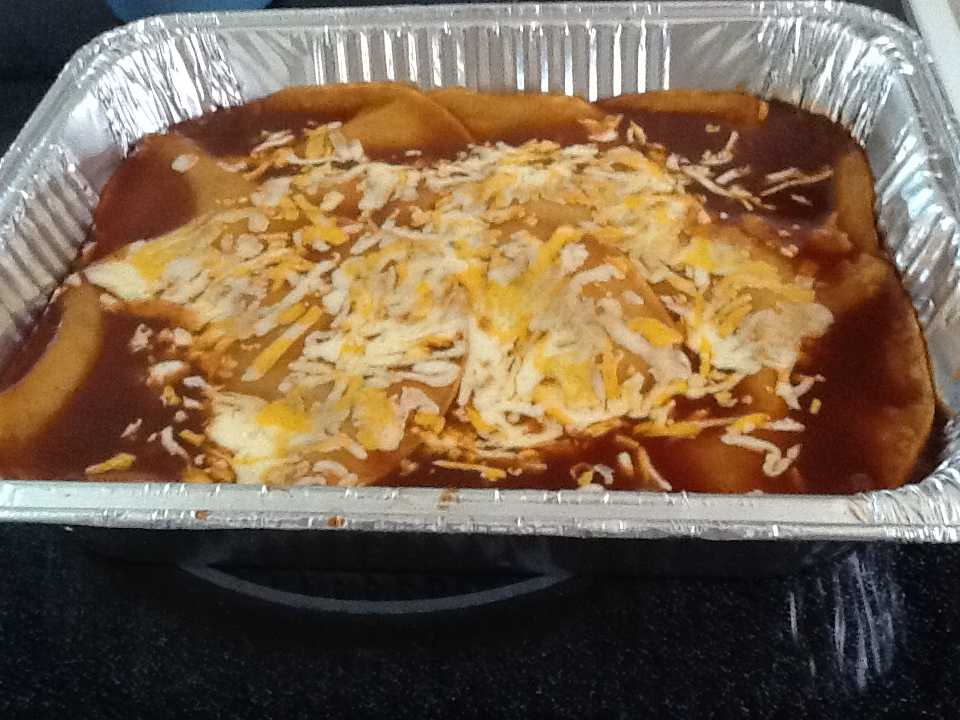 Enchiladas
A recipe for red enchiladas, they are layered like a lasagna and not rolled up.
| Servings | Prep Time | Cook Time |
| --- | --- | --- |
| 8 | 20 mins | 25 mins |
Directions
| | |
| --- | --- |
| 1. | Preheat the oven to 350 °F (175 °C). |
| 2. | In a skillet over medium-high heat brown the ground turkey, set aside. Meanwhile in a small skillet over medium-low heat warm up some canola oil. While the oil warms up, in a large saucepan, over medium-low heat warm up the red enchilada sauce. In a 9x13" baking pan pour a little bit of the enchilada sauce, just enough to coat the bottom. |
| 3. | Once the oil is hot, dip each tortilla one a time in the oil for about 5 seconds each side. Set on paper towels to drain. Once you get 6 tortillas done you can make the first layer. Take one of the tortillas and dip it in the saucepan that has the enchilada sauce, just to coat each side, then place it in the baking pan. Do this with each of the 6 tortillas, in a single layer. Add 1/2 of the turkey and sprinkle with 1/3 of the cheese. |
| 4. | For the second layer repeat using all of the turkey. All the meat will be in the middle of the enchiladas but use only 1/3 of the cheese. |
| 5. | Once you have layered remaining 6 tortillas on the top, pour any remaining enchilada sauce on top and then top with remaining cheese. |
| 6. | Cover with foil and bake for 20 minutes. Then uncover and bake for 5 minutes or until cheese is melted. |
| 7. | They can be served with rice and beans, a side salad or montadas which means with a fried egg on top. |
| 8. | Note: if you don't want to use canola oil then you can warm up the tortillas in the microwave. Just wrap each one in a damp paper towel and microwave 10 seconds or until warmed through. Ground beef can also be used instead of ground turkey. |
Nutrition summary
There are 417 calories in 1 serving of Enchiladas.
Calorie split: 59% fat, 26% carbs, 15% protein.
Nutrition Facts
Amount Per Serving
Calories
417
% Daily Values*
Total Fat
27.69g
36%
Saturated Fat
13.033g
65%
Trans Fat
0g
Polyunsaturated Fat
3.108g
Monounsaturated Fat
7.079g
Cholesterol
96mg
32%
Sodium
426mg
19%
Total Carbohydrate
27.93g
10%
Dietary Fiber
4.5g
16%
Sugars
4.69g
Protein
15.36g
Vitamin D
-
Calcium
338mg
26%
Iron
2.82mg
16%
Potassium
276mg
6%
Vitamin A
1649mcg
183%
Vitamin C
75.2mg
84%
Related Recipe Collections
Related Recipes
Arugula Skirt Steak Salad
A salad of arugula steak and red onion.
Per serve - Energy: 468kcal | Carb: 12.36g | Prot: 30.44g | Fat: 32.64g
Stuffed Jalapenos
Peppers filled with cheese wrapped in bacon.
Per serve - Energy: 111kcal | Carb: 1.08g | Prot: 3.79g | Fat: 10.35g
Turkey Taco Skillet
One pot taco skillet.
Per serve - Energy: 196kcal | Carb: 37.09g | Prot: 8.36g | Fat: 2.84g
Turkey Loaf
A tasty meal for the week.
Per serve - Energy: 260kcal | Carb: 18.50g | Prot: 19.25g | Fat: 11.81g
Pizza Pasta
Rigatoni with pizza toppings.
Per serve - Energy: 423kcal | Carb: 66.27g | Prot: 22.16g | Fat: 9.26g
Taco Tuesday
Having a preschooler means taco Tuesdays are in demand.
Per serve - Energy: 688kcal | Carb: 73.53g | Prot: 32.42g | Fat: 31.34g