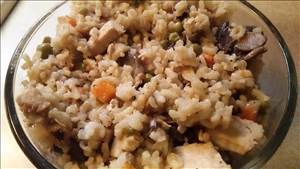 Chicken Pilaf
A vintage rice recipe.
Servings: 4
Prep Time: 5 mins
Cook Time: 20 mins
Average Rating:
Ingredients
Directions
Saute chicken in oil until lightly browned.
Add mushrooms, onion, peas and carrots, and rice and saute, stirring until rice is lightly browned.
Add broth and bring to a full boil.
Cover, remove from heat and let stand 5 minutes.
Nutrition summary
There are 269 calories in 1 serving of Chicken Pilaf.
Calorie split: 19% fat, 49% carbs, 33% protein.
Related Recipe Collections
Related Recipes
Spicy Thai Peanut Chicken over Rice
This is a very tasty Asian-inspired dish made with chicken and broccoli in a spicy peanut sauce.
Per serve - Energy: 261kcal | Carb: 23.41g | Prot: 22.00g | Fat: 9.73g
Pizza Pasta
Rigatoni with pizza toppings.
Per serve - Energy: 423kcal | Carb: 66.27g | Prot: 22.16g | Fat: 9.26g
Easy Chicken Noodle Soup
An easy soup to warm your tummy.
Per serve - Energy: 261kcal | Carb: 44.29g | Prot: 13.12g | Fat: 2.89g