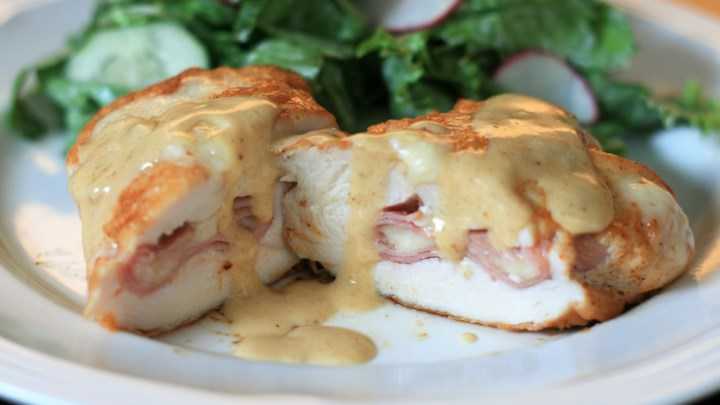 Chicken Cordon Blue
This yummy version adds paprika and a creamy white wine sauce worthy of its own blue ribbon. Two blue ribbon tastes in wedded bliss.
| Servings | Prep Time | Cook Time |
| --- | --- | --- |
| 6 | 20 mins | 45 mins |
Directions
| | |
| --- | --- |
| 1. | Pound chicken breasts if they are too thick. Place a cheese and ham slice on each breast within 1/2" of the edges. Fold the edges of the chicken over the filling, and secure with toothpicks. Mix the flour and paprika in a small bowl, and coat the chicken pieces. |
| 2. | Heat the butter in a large skillet over medium-high heat, and cook the chicken until browned on all sides. Add the wine and bouillon. Reduce heat to low, cover, and simmer for 30 minutes, until chicken is no longer pink and juices run clear. |
| 3. | Remove the toothpicks, and transfer the breasts to a warm platter. Blend the corn starch with the cream in a small bowl, and whisk slowly into the skillet. Cook, stirring until thickened, and pour over the chicken. Serve warm. |
Nutrition summary
There are 597 calories in 1 serving of Chicken Cordon Blue.
Calorie split: 65% fat, 4% carbs, 31% protein.
Nutrition Facts
Amount Per Serving
Calories
597
% Daily Values*
Total Fat
43.02g
55%
Saturated Fat
21.831g
109%
Trans Fat
0g
Polyunsaturated Fat
0.953g
Monounsaturated Fat
4.703g
Cholesterol
196mg
65%
Sodium
872mg
38%
Total Carbohydrate
6.12g
2%
Dietary Fiber
1g
4%
Sugars
1.01g
Protein
46.99g
Vitamin D
-
Calcium
7mg
1%
Iron
0.58mg
3%
Potassium
412mg
9%
Vitamin A
97mcg
11%
Vitamin C
0mg
0%
Related Recipe Collections
Related Recipes
Keto Chicken Nuggets
A crispy and tender finger food without added sugar.
Per serve - Energy: 222kcal | Carb: 8.30g | Prot: 27.37g | Fat: 9.56g
Chicken and Mushroom Pasta
A creamy, low-sugar dish that is ready in 30 minutes.
Per serve - Energy: 350kcal | Carb: 29.85g | Prot: 34.14g | Fat: 11.14g
Chicken Tortellini Soup
A creamy, bursting-with-flavor dish for weeknight dinner.
Per serve - Energy: 312kcal | Carb: 26.14g | Prot: 30.74g | Fat: 10.49g
Chicken Peek-a-Boos
Delicious chicken breasts, filled with cheeses and wrapped in lean ham.
Per serve - Energy: 525kcal | Carb: 6.94g | Prot: 79.22g | Fat: 17.96g
Cheesy Ham Roll-ups
Ham, cream cheese and veggie roll-ups for lunch or a snack.
Per serve - Energy: 283kcal | Carb: 14.83g | Prot: 11.68g | Fat: 20.39g
Cheese & Ham Toastie
Grilled wholemeal pita bread filled cheddar cheese and sliced ham.
Per serve - Energy: 288kcal | Carb: 39.48g | Prot: 18.81g | Fat: 7.09g