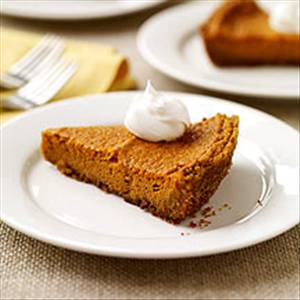 Pumpkin Pie II
A low fat pumpkin pie.
Servings: 8
Prep Time: 15 mins
Cook Time: 50 mins
Average Rating:
Ingredients
Directions
Combine corn flakes and crispix into a plastic bag. Begin to crush cereal until it has reached a bread crumb consistency.
Melt fat free butter spread, then stir in ground cinnamon and no calorie sweetener packets.
Add crushed cereal to butter mixture and fold it in to dispense butter evenly. Coat pie pan with no calorie butter cooking spray.
Add crust mixture to coated pan and begin to press it flat and work it up the edges of the pan. Let crust sit a few minutes before adding pie filling.
Combine pumpkin pie filling (like Libby's), eggs, fat free evaporated milk and a dash of ground cinnamon. Stir until mixed well, and pour into pie pan.
Cook pie for 45-50 minutes, depending on oven strength.
In order to know if pie is cooked through, stick a toothpick or butter knife into center of pie. If it comes out clean, the pie is ready. Enjoy!
Nutrition summary
There are 188 calories in 1 serving of Pumpkin Pie II.
Calorie split: 9% fat, 80% carbs, 11% protein.
Related Recipe Collections
Related Recipes
Flourless Pumpkin Donuts
Dairy free, protein packed donuts.
Per serve - Energy: 87kcal | Carb: 14.52g | Prot: 5.69g | Fat: 1.13g
Pumpkin Pancakes II
Pumpkin and oats star in this autumn classic.
Per serve - Energy: 82kcal | Carb: 8.27g | Prot: 2.36g | Fat: 4.58g
Pumpkin Pie Chia Pudding
A delicious dessert or a wonderful breakfast.
Per serve - Energy: 136kcal | Carb: 19.97g | Prot: 2.80g | Fat: 5.01g
Pumpkin Muffins IV
A festive pumpkin muffin recipe.
Per serve - Energy: 152kcal | Carb: 19.75g | Prot: 2.89g | Fat: 7.41g
Stew in a Pumpkin
Hearty Fall dish.
Per serve - Energy: 217kcal | Carb: 26.18g | Prot: 21.03g | Fat: 3.40g
Pumpkin Pudding
Heart healthy pumpkin pie dessert.
Per serve - Energy: 66kcal | Carb: 8.33g | Prot: 4.72g | Fat: 1.19g