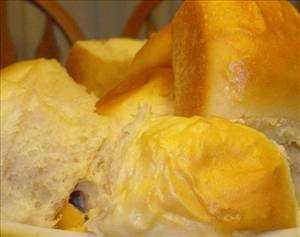 Thanksgiving Rolls
Good rolls for Thanksgiving.
| Servings | Prep Time | Cook Time |
| --- | --- | --- |
| 35 | 3 hrs 30 mins | 35 mins |
Directions
| | |
| --- | --- |
| 1. | Pour the water into a small bowl. Sprinkle in the yeast and let it dissolve (about 5 minutes). In a large bowl, stir together the warm milk and sugar. Then stir in the dissolved yeast and egg. |
| 2. | With a wooden spoon, stir 2 cups of the flour into the liquid, and then beat well for 100 strokes. Cover the bowl with plastic wrap and leave the sponge undisturbed for 15 minutes. |
| 3. | Stir the salt, the soft butter and flour into the sponge. Only add 1/3 cup of flour at a time until. When the dough balls up and becomes impossible to stir, flour your hands and knead the dough right in the bowl for 2 or 3 minutes. |
| 4. | Transfer the dough to a well-floured counter and continue to knead it for about 6 to 7 more minutes, until it is smooth and elastic. Put the dough in a large, clean, lightly oiled bowl, turning to coat the entire surface. Cover the bowl with plastic wrap and set it aside in a warm, draft-free spot until the dough doubles (about 1 hour). |
| 5. | When the dough has risen, punch it down several times to deflate it. Then knead the dough again on a lightly floured surface for 1 minute. Cover the dough with plastic wrap and let it rest for 10-15 minutes. Butter a 13 x 9" baking pan. |
| 6. | Spread the soft butter over the dough, leaving a 1" border along each of the long edges. |
| 7. | Pinch off rolls with buttered hands. Place the rounded balls on a buttered pan. Let rise 35-45 minutes until double in size. Pre-heat the oven to 350 °F (175 °C) near the end of the rising. |
| 8. | Bake for 30 minutes or until golden brown at 350 °F. |
Nutrition summary
There are 56 calories in 1 serving of Thanksgiving Rolls.
Calorie split: 26% fat, 62% carbs, 12% protein.
Nutrition Facts
Amount Per Serving
Calories
56
% Daily Values*
Total Fat
1.59g
2%
Saturated Fat
0.904g
5%
Trans Fat
0g
Polyunsaturated Fat
0.112g
Monounsaturated Fat
0.413g
Cholesterol
10mg
3%
Sodium
106mg
5%
Total Carbohydrate
8.61g
3%
Dietary Fiber
0.3g
1%
Sugars
0.37g
Protein
1.62g
Vitamin D
-
Calcium
17mg
1%
Iron
0.53mg
3%
Potassium
28mg
1%
Vitamin A
21mcg
2%
Vitamin C
0.1mg
0%
Related Recipe Collections
Related Recipes
Water Chestnut Spinach Dip
A tasty and healthy dip to serve with pumpernickel bread or veggies.
Per serve - Energy: 46kcal | Carb: 7.96g | Prot: 1.30g | Fat: 1.22g
Honey Roasted Pumpkin
Honey glazed pumpkin is a wonderful side dish that's great with any roasted meat.
Per serve - Energy: 46kcal | Carb: 6.66g | Prot: 0.59g | Fat: 2.31g
Garden Vegetable Soup
Use any fat-free broth and substitute any vegetable you don't like for a vegetable you do like.
Per serve - Energy: 66kcal | Carb: 9.15g | Prot: 5.16g | Fat: 1.21g
Spicy Carrot Dip
Simple to make and really healthy carrot dip.
Per serve - Energy: 48kcal | Carb: 5.11g | Prot: 1.28g | Fat: 2.68g
Green Beans Salad Provencal
A perfect light refreshing salad for any time that includes the best of typical French cuisine, tomatoes, olive oil, garlic and herbs.
Per serve - Energy: 50kcal | Carb: 6.34g | Prot: 1.72g | Fat: 2.45g