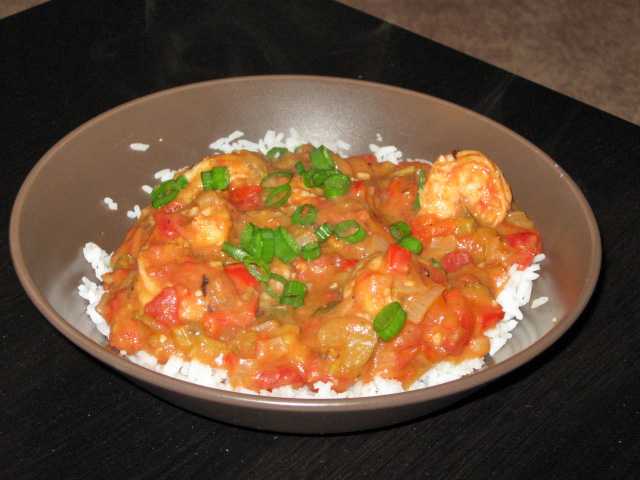 Low Fat Shrimp Etouffee
A low fat alternative to this popular dish.
| Servings | Prep Time | Cook Time |
| --- | --- | --- |
| 4 | 10 mins | 1 hr |
Directions
| | |
| --- | --- |
| 1. | Place the flour in a large non-stick skillet and heat over medium-high heat. Watch the pan carefully, stirring and shaking the flour. It will take about 10 to 15 minutes and the flour will turn an almond brown. Do not let the flour cook too fast or burn. Remove to a plate and cool. |
| 2. | While the flour is cooling place the butter and olive oil in the pan over medium heat and add the minced garlic. Cook, stirring frequently, until it softens. Add the onions, celery, green and red peppers and cook until the peppers are slightly soft. |
| 3. | Sprinkle about 1/4 of the cooked flour over the top of the cooked vegetables. Stir to blend the flour and repeat with the flour in three more batches until it is fully incorporated and there are no clumps of flour. |
| 4. | Add the water slowly stirring continuously. The sauce will begin to thicken. Stir in the salt, pepper, cayenne pepper, bay leaf and Cajun spice. |
| 5. | Cook slowly adding water a tablespoon at a time if the sauce is too thick. Add the tomatoes, sherry, parsley and thyme. The sauce can be made to this point and kept warm or overnight. When ready to serve heat the sauce and add the shrimp. Cook until they are pink and firm. |
| 6. | Serve over rice and top with the chopped green onions. |
Nutrition summary
There are 297 calories in 1 serving of Low Fat Shrimp Etouffee.
Calorie split: 19% fat, 43% carbs, 38% protein.
Nutrition Facts
Amount Per Serving
Calories
297
% Daily Values*
Total Fat
6.02g
8%
Saturated Fat
1.672g
8%
Trans Fat
0g
Polyunsaturated Fat
1.216g
Monounsaturated Fat
2.369g
Cholesterol
177mg
59%
Sodium
1572mg
68%
Total Carbohydrate
30.75g
11%
Dietary Fiber
4g
14%
Sugars
7.23g
Protein
27.14g
Vitamin D
-
Calcium
112mg
9%
Iron
4.17mg
23%
Potassium
429mg
9%
Vitamin A
117mcg
13%
Vitamin C
21.4mg
24%
Related Recipe Collections
Related Recipes
Bang Bang Shrimp Salad
Delicious and hearty dish.
Per serve - Energy: 305kcal | Carb: 24.43g | Prot: 39.01g | Fat: 6.59g
Stir Fry Shrimp
A tasty seafood dish that's ready in less than 30 minutes.
Per serve - Energy: 179kcal | Carb: 2.25g | Prot: 17.41g | Fat: 11.46g
Sausage and Shrimp Gumbo
A classic, flavorful Cajun dish.
Per serve - Energy: 274kcal | Carb: 35.05g | Prot: 9.51g | Fat: 10.75g
Shrimp Noodle Soup
A low-fat dish that's bursting with unique flavors.
Per serve - Energy: 214kcal | Carb: 31.26g | Prot: 19.32g | Fat: 1.90g
Seafood Salad
Shrimp and crab salad suitable for mixing with pasta, on roll or crackers. Can also be used as a dip.
Per serve - Energy: 161kcal | Carb: 6.17g | Prot: 8.05g | Fat: 11.23g