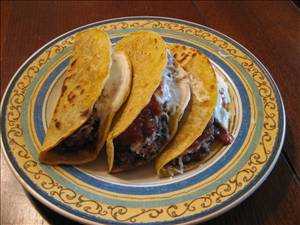 Black Bean Tacos
Black bean tacos with corn tortillas and cheese.
| Servings | Prep Time | Cook Time |
| --- | --- | --- |
| 1 | 5 mins | 10 mins |
Directions
| | |
| --- | --- |
| 1. | Spray hot skillet with olive oil. |
| 2. | Place 1 corn tortilla on to skillet and spray with olive oil. When tortilla starts to brown, turn it over. |
| 3. | Add half of the mashed black beans just barely off center and fold in half. Move taco off to the side of the skillet and repeat the process for the 2nd tortilla. |
| 4. | When the 1st side of the taco is brown and a bit crispy, turn taco over. Taco is done when 2nd side is brown and crispy. (Note, this isn't a "crispy" taco like you'd eat at, say Taco Bell. The corn tortillas are still soft, slightly chewy, and have a tiny bit of a crunch to them.) |
| 5. | Add a tablespoon of shredded cheese to each taco, along with salsa and lettuce before serving. |
| 6. | Note: 1 serving is 2 tacos. These are really good with a little bit of sour cream added and also with brown rice. |
Nutrition summary
There are 166 calories in 1 serving of Black Bean Tacos.
Calorie split: 29% fat, 55% carbs, 16% protein.
Nutrition Facts
Amount Per Serving
Calories
166
% Daily Values*
Total Fat
5.69g
7%
Saturated Fat
2.512g
13%
Trans Fat
0g
Polyunsaturated Fat
0.546g
Monounsaturated Fat
0.009g
Cholesterol
12mg
4%
Sodium
417mg
18%
Total Carbohydrate
24.43g
9%
Dietary Fiber
4.1g
15%
Sugars
3.3g
Protein
7.31g
Vitamin D
-
Calcium
11mg
1%
Iron
0.2mg
1%
Potassium
229mg
5%
Vitamin A
21mcg
2%
Vitamin C
2mg
2%
Related Recipe Collections
Related Recipes
Creamy Curry Pasta Primavera
Happy April Fool's Day - nobody will ever believe the creaminess is from low fat yogurt and not cream.
Per serve - Energy: 190kcal | Carb: 37.60g | Prot: 9.97g | Fat: 1.79g
Curried Lentils
An extremely simple lentil dish which is very good over rice.
Per serve - Energy: 189kcal | Carb: 32.12g | Prot: 13.20g | Fat: 2.04g
Chili Con Carne with Red Beans
Rich and heart healthy chili con carne with lean ground beef that's suitable for all meals.
Per serve - Energy: 160kcal | Carb: 19.68g | Prot: 12.47g | Fat: 3.67g
Taco Bake
An absolutely delicious bake the whole family will love that's low in points.
Per serve - Energy: 170kcal | Carb: 25.45g | Prot: 11.15g | Fat: 2.95g
Beef Vegetable Stew
A wonderfully sized yummy soup to eat for a few days as quick meals or to enjoy with family.
Per serve - Energy: 177kcal | Carb: 24.68g | Prot: 13.36g | Fat: 3.08g
Black and White Turkey Chili
After being served to 6 hungry adults, there was only about 1 1/2 cups leftover of this savory gobbler chili.
Per serve - Energy: 164kcal | Carb: 24.06g | Prot: 11.11g | Fat: 3.22g