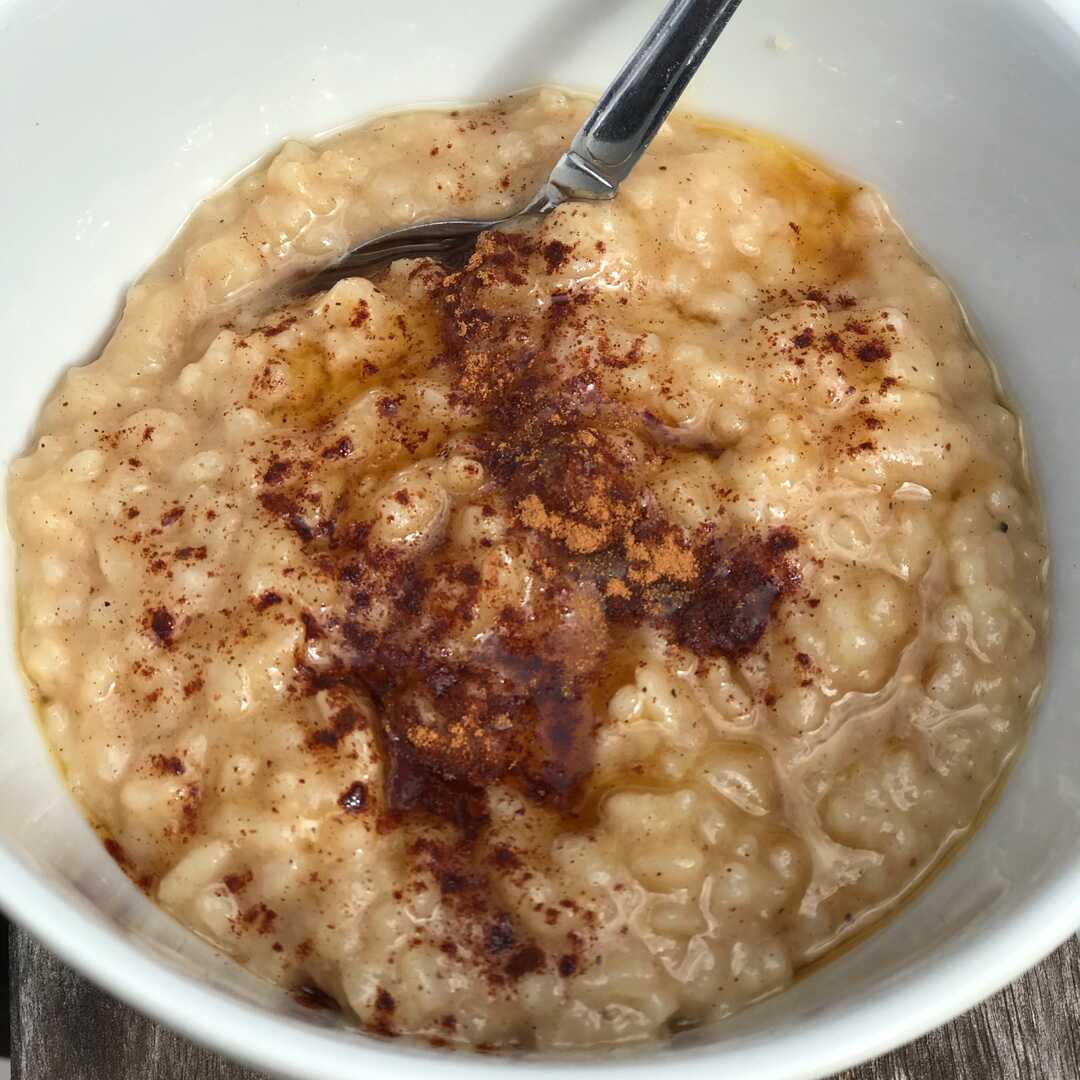 Nepali Rice Pudding
A simplified version of traditional Nepali first food for mothers after birth.
| Servings | Prep Time | Cook Time |
| --- | --- | --- |
| 4 | 0 mins | 35 mins |
Directions
| | |
| --- | --- |
| 1. | Bring water and rice to boil in a large pot. Simmer while stirring occasionally until it begins to thicken. This should take about 20 minutes. |
| 2. | Add sugar, spices, and oil. Note: You may need to add an extra cup of water at this stage if the pudding is too thick. |
| 3. | Continue to cook slowly while stirring as needed. When consistency is gelatinous, add coconut milk. Cook for a few more minutes to thicken. |
| 4. | Transfer to a bowl then serve. |
Nutrition summary
There are 227 calories in 1 serving of Nepali Rice Pudding.
Calorie split: 61% fat, 37% carbs, 2% protein.
Nutrition Facts
Amount Per Serving
Calories
227
% Daily Values*
Total Fat
15.9g
20%
Saturated Fat
14.166g
71%
Trans Fat
0g
Polyunsaturated Fat
0.02g
Monounsaturated Fat
1.032g
Cholesterol
0mg
0%
Sodium
9mg
0%
Total Carbohydrate
21.54g
8%
Dietary Fiber
1.4g
5%
Sugars
10.2g
Protein
1.42g
Vitamin D
-
Calcium
17mg
1%
Iron
0.42mg
2%
Potassium
33mg
1%
Vitamin A
0mcg
0%
Vitamin C
0.3mg
0%
Related Recipe Collections
Related Recipes
Barbecue Sauce
BBQ sauce for South Beach diet Phase 1 that's really good.
Per serve - Energy: 25kcal | Carb: 4.92g | Prot: 1.01g | Fat: 0.38g
Cane Sauce
Sauce inspired by 'Raising Cane's Chicken Fingers', a Louisiana based restaurant chain.
Per serve - Energy: 157kcal | Carb: 35.20g | Prot: 2.17g | Fat: 2.92g
Herb Rub
Great for any lean meat, especially chicken or pork.
Per serve - Energy: 67kcal | Carb: 2.16g | Prot: 0.45g | Fat: 6.65g
Sugar Free Tomato Sauce
This sauce is so easy, and there is no need to buy jarred sauce. It tastes great on top of the chicken and roasted veggies.
Per serve - Energy: 219kcal | Carb: 25.11g | Prot: 10.13g | Fat: 7.77g
Creamy Mushroom Sauce
This versatile mushroom sauce makes a great flavor enhancer for simple grilled steaks and chops as well as for garlic dill meatballs.
Per serve - Energy: 102kcal | Carb: 4.95g | Prot: 4.12g | Fat: 8.25g
Hollandaise Sauce
This blender version of the classic sauce is quick, easy and delicious. Serve it with Eggs Benedict or steamed asparagus. Makes about a 1/2 cup.
Per serve - Energy: 223kcal | Carb: 8.33g | Prot: 2.80g | Fat: 21.24g