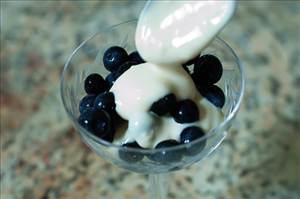 Yogurt Cream
A creamy yogurt topping.
Servings: 20
Prep Time: 20 mins
Average Rating:
Ingredients
Directions
Put yogurt and cream in a bowl and mix together with a spoon.
Sprinkle brown sugar over the top of the yogurt mixture but do not mix it in. Cover the bowl with plastic wrap.
Place the yogurt mixture into the fridge and let sit overnight.
Remove the yogurt mixture from the fridge and whisk it together. Serve.
Note: taste great over berries.
Nutrition summary
There are 84 calories in 1 serving of Yogurt Cream.
Calorie split: 61% fat, 33% carbs, 6% protein.
Related Recipe Collections
Related Recipes
Sausage Gravy
Gravy for biscuits.
Per serve - Energy: 491kcal | Carb: 4.00g | Prot: 28.71g | Fat: 38.63g
Breakfast To Go Bars
Keto breakfast to go.
Per serve - Energy: 440kcal | Carb: 5.56g | Prot: 26.50g | Fat: 34.48g
Chocolate Mousse
Low carb mousse.
Per serve - Energy: 286kcal | Carb: 3.34g | Prot: 3.53g | Fat: 31.37g