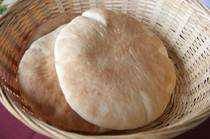 White Pita Bread
Easy homemade pita bread that's useful for any meal in so many ways.
| Servings | Prep Time | Cook Time |
| --- | --- | --- |
| 10 | 3 hrs | 10 mins |
Directions
| | |
| --- | --- |
| 1. | Dissolve yeast in 1/2 cup of warm water. Add sugar and stir until dissolved. Let sit for 10-15 minutes until water is frothy. |
| 2. | Combine flour and salt in large bowl. Make a small depression in the middle of flour and pour yeast water in depression. |
| 3. | Slowly add 1 cup of warm water, and stir with wooden spoon or rubber spatula until elastic. Place dough on floured surface and knead for 10-15 minutes. When the dough is no longer sticky and is smooth and elastic, it has been successfully kneaded. Coat large bowl with vegetable oil and place dough in bowl. Turn dough upside down so all of the dough is coated. |
| 4. | Allow to sit in a warm place for about 3 hours, or until it has doubled in size. |
| 5. | Once doubled, roll out in a rope, and pinch off 10-12 small pieces. Place balls on floured surface. Let sit covered for 10 minutes. Preheat oven to 500° F (260° C) and make sure rack is at the very bottom of oven. Be sure to also preheat your baking sheet. |
| 6. | Roll out each ball of dough with a rolling pin into circles. Each should be about 5-6 inches across and 1/4 inch thick. |
| 7. | Bake each circle for 4 minutes until the bread puffs up. Turn over and bake for 2 minutes. Remove each pita with a spatula from the baking sheet and add additional pitas for baking. |
| 8. | Take spatula and gently push down puff. Immediately place in storage bags. Pita bread can be stored for up to a week in a pantry or bread box, and up to a month in the freezer. Be sure to use freezer bags when storing in the freezer. |
Nutrition summary
There are 142 calories in 1 serving of White Pita Bread.
Calorie split: 3% fat, 85% carbs, 12% protein.
Nutrition Facts
Amount Per Serving
Calories
142
% Daily Values*
Total Fat
0.42g
1%
Saturated Fat
0.065g
0%
Trans Fat
-
Polyunsaturated Fat
0.155g
Monounsaturated Fat
0.063g
Cholesterol
0mg
0%
Sodium
293mg
13%
Total Carbohydrate
29.49g
11%
Dietary Fiber
1.3g
5%
Sugars
0.52g
Protein
4.33g
Vitamin D
-
Calcium
7mg
1%
Iron
1.94mg
11%
Potassium
64mg
1%
Vitamin A
0mcg
0%
Vitamin C
0mg
0%
Related Recipe Collections
Related Recipes
Zucchini Bread
This low fat and low calorie zucchini bread is a great homemade alternative to regular bread.
Per serve - Energy: 129kcal | Carb: 24.38g | Prot: 3.74g | Fat: 2.80g
Banana Bread
A low carb and low fat banana bread recipe that's perfect for ripe bananas.
Per serve - Energy: 188kcal | Carb: 32.75g | Prot: 8.38g | Fat: 2.84g
Raspberry Corn Muffins
Easy summer muffins with fresh raspberries.
Per serve - Energy: 134kcal | Carb: 28.07g | Prot: 4.54g | Fat: 0.83g
Pumpkin Bread
A healthy version of a seasonal favorite.
Per serve - Energy: 119kcal | Carb: 26.20g | Prot: 3.42g | Fat: 0.69g
Banana Bread
A great no fat added banana bread with applesauce, whole wheat flour and whole rolled oats.
Per serve - Energy: 199kcal | Carb: 42.86g | Prot: 4.94g | Fat: 1.62g