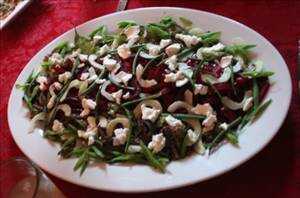 Truffled Roasted Beet and Green Bean Salad with Goat Cheese
Fresh beets and green beans from the garden on greens with chevre cheese and truffle oil
| Servings | Prep Time | Cook Time |
| --- | --- | --- |
| 6 | 25 mins | 1 min |
Directions
| | |
| --- | --- |
| 1. | Wash and trim the beets. Place in cake or pie pan add 1/4 cup of water cover with foil and roast in a 400° F (200° C) oven for 1 hour. |
| 2. | Trim and wash the green beans and steam until tender but not soft. Let them cool spread out on a plate in the fridge. |
| 3. | When the beets are out of the oven and have cooled to the point of being able to handle them, slip the skins off of them. Retain the beet liquid from the cake pan that they were roasted in (used for the dressing). Cut the beets into a julienne (match stick) and set aside. |
| 4. | Combine the beet juice, red wine vinegar, mustard, agave nectar, onions and salt in a bowl and stir until combined. |
| 5. | Wash the lettuce and greens and spin until completely dry. Peel and seed the cucumber and slice it into crescents. |
| 6. | Add the lettuce and the greens and toss until the greens are evenly coated. Arrange the greens as a bed on a large serving platter. |
| 7. | Arrange the matchstick beets in row down the center of the bed of greens. Distribute the green beans and the cucumbers evenly over the top of the entire platter. |
| 8. | Crumble and dot the goat cheese evenly over the salad. Drizzle the salad with the truffle oil just before serving. |
Nutrition summary
There are 134 calories in 1 serving of Truffled Roasted Beet and Green Bean Salad with Goat Cheese.
Calorie split: 51% fat, 35% carbs, 14% protein.
Nutrition Facts
Amount Per Serving
Calories
134
% Daily Values*
Total Fat
7.93g
10%
Saturated Fat
2.76g
14%
Trans Fat
0g
Polyunsaturated Fat
0.133g
Monounsaturated Fat
0.728g
Cholesterol
6mg
2%
Sodium
340mg
15%
Total Carbohydrate
12.17g
4%
Dietary Fiber
3.3g
12%
Sugars
7.57g
Protein
4.8g
Vitamin D
-
Calcium
67mg
5%
Iron
1.72mg
10%
Potassium
399mg
8%
Vitamin A
232mcg
26%
Vitamin C
11.5mg
13%
Related Recipe Collections
Related Recipes
Green Bean Casserole
Low carb version.
Per serve - Energy: 234kcal | Carb: 4.35g | Prot: 7.35g | Fat: 19.40g
Coffee & Beet Juice Pre-Workout
A pre-workout/supplement drink for the morning. Tastes mostly like the beet juice. Delivers effective supplement level of nitrate from the beet juice.
Per serve - Energy: 289kcal | Carb: 40.49g | Prot: 31.39g | Fat: 0.22g
Potatoes & Green Beans
A mix of potatoes, green beans and tomatoes.
Per serve - Energy: 197kcal | Carb: 36.99g | Prot: 4.92g | Fat: 3.77g
Zesty Chicken Breasts
An easy delicious meal that even kids love.
Per serve - Energy: 595kcal | Carb: 63.06g | Prot: 26.93g | Fat: 25.48g
Savory Roasted Vegetables
A great side dish that uses up the vegetables in your fridge or serve over brown rice or whole wheat couscous to make a hearty vegan meal.
Per serve - Energy: 179kcal | Carb: 25.63g | Prot: 4.88g | Fat: 7.22g
Vegetarian Fajita
Grilled vegetables seasoned with spices.
Per serve - Energy: 268kcal | Carb: 19.75g | Prot: 2.92g | Fat: 20.98g