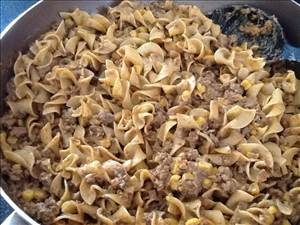 Taco Stroganoff
A twist on stroganoff.
Servings: 7
Prep Time: 10 mins
Cook Time: 15 mins
Average Rating:
Ingredients
Directions
Cook onions and ground beef until beef is browned. Drain fat.
Add taco seasoning, beef stock and corn to beef mixture in pan, cook 1-2 minutes.
Add cream cheese and monterey jack cheese, cook until it is heated through and cheese has melted.
Toss with noodles and serve.
Nutrition summary
There are 333 calories in 1 serving of Taco Stroganoff.
Calorie split: 30% fat, 41% carbs, 28% protein.
Related Recipe Collections
Related Recipes
Arugula Skirt Steak Salad
A salad of arugula steak and red onion.
Per serve - Energy: 468kcal | Carb: 12.36g | Prot: 30.44g | Fat: 32.64g
Quick Quiche
No crust quiche.
Per serve - Energy: 237kcal | Carb: 12.07g | Prot: 14.47g | Fat: 13.95g
Lean Meatloaf
Use lean 93/7 hamburger mince.
Per serve - Energy: 206kcal | Carb: 14.14g | Prot: 19.67g | Fat: 7.72g
Cheeseburger Casserole III
Casserole that uses meat, bacon, eggs, heavy cream and of course cheese.
Per serve - Energy: 816kcal | Carb: 7.33g | Prot: 43.93g | Fat: 68.33g
Taco Tuesday
Having a preschooler means taco Tuesdays are in demand.
Per serve - Energy: 688kcal | Carb: 73.53g | Prot: 32.42g | Fat: 31.34g
Spaghetti Squash Casserole
Low carb/keto meal using spaghetti squash.
Per serve - Energy: 504kcal | Carb: 13.15g | Prot: 33.20g | Fat: 34.33g