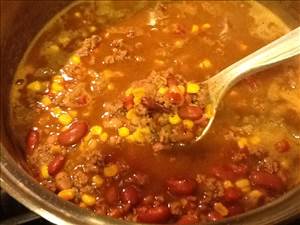 Taco Soupyt
Easy taco soup.
Servings: 13
Prep Time: 5 mins
Cook Time: 30 mins
Average Rating:
Ingredients
Directions
Brown onion and meat together.
Mix all other ingredients.
Add water and simmer.
Nutrition summary
There are 192 calories in 1 serving of Taco Soupyt.
Calorie split: 33% fat, 39% carbs, 27% protein.
Related Recipe Collections
Related Recipes
Quinoa Stuffed Bell Peppers
These stuffed bell peppers will provide the nutrition that you need for a healthy balanced meal.
Per serve - Energy: 242kcal | Carb: 38.66g | Prot: 10.66g | Fat: 6.46g
Spaghetti Squash Casserole
Low carb/keto meal using spaghetti squash.
Per serve - Energy: 504kcal | Carb: 13.15g | Prot: 33.20g | Fat: 34.33g
Cabbage Stir-Fry
Stir-fry dish with veggies and turkey sausage.
Per serve - Energy: 186kcal | Carb: 18.98g | Prot: 11.51g | Fat: 8.70g
Chicken Scampi
Low carb and gluten free.
Per serve - Energy: 547kcal | Carb: 7.58g | Prot: 30.00g | Fat: 43.00g
Quinoa & Black Beans
Very flavorful alternative to black beans and rice. Quinoa is a nutty grain from South America.
Per serve - Energy: 99kcal | Carb: 17.76g | Prot: 3.79g | Fat: 1.87g