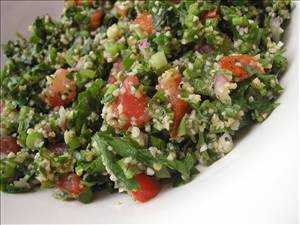 Tabbouleh
An Arabic salad dish also known as tabouleh or tabouli, that's often used as part of a mezze.
| Servings | Prep Time | Cook Time |
| --- | --- | --- |
| 8 | 30 mins | 6 hrs |
Directions
| | |
| --- | --- |
| 1. | Cover a strainer with cheesecloth and place the bulgur on top. Place the strainer in a pot filled with cold water and soak the bulgur for 10 minutes. |
| 2. | Pull up the sides of the cheesecloth, encasing the bulgur, and squeeze out all the water. Transfer to a large bowl. |
| 3. | Toss the bulgur with the lemon juice. Toss again with the parsley, mint, tomatoes, and onions and season with salt and pepper. |
| 4. | Stir in 1 1/4 cups of the olive oil and leave to rest at room temperature until the bulgur has absorbed enough liquid to be tender, 4 to 6 hours. |
| 5. | Correct the seasonings and olive oil; there should be enough that it looks shiny and moist but not gooey and oily. |
| 6. | Serve garnished with romaine lettuce leaves and scallions. Place a few slices of scallion in a leaf of romaine lettuce, then scoop up the tabbouleh with the lettuce leaf. |
| 7. | Note: the longer the bulgur sits and absorbs the olive oil, lemon juice, tomato, and onion juices, the more it will swell and dominate the salad, so keep that in mind when you prepare this salad. Remember that the proper ratio of parsley to bulgur is about 7 to 1. Many cooks make tabbouleh with a food processor by pulsing in short bursts, although I still prefer the texture of the labor-intensive method of hand-chopping all the ingredients with a large chef's knife. |
Nutrition summary
There are 444 calories in 1 serving of Tabbouleh.
Calorie split: 80% fat, 16% carbs, 4% protein.
Nutrition Facts
Amount Per Serving
Calories
444
% Daily Values*
Total Fat
41.37g
53%
Saturated Fat
5.773g
29%
Trans Fat
-
Polyunsaturated Fat
4.594g
Monounsaturated Fat
29.74g
Cholesterol
0mg
0%
Sodium
60mg
3%
Total Carbohydrate
18.93g
7%
Dietary Fiber
6.7g
24%
Sugars
2.77g
Protein
4.35g
Vitamin D
-
Calcium
152mg
12%
Iron
5.18mg
29%
Potassium
650mg
14%
Vitamin A
302mcg
34%
Vitamin C
93.4mg
104%
Related Recipe Collections
Related Recipes
Cucumber Avocado Salad
Salad with cucumbers, avocados and tomatoes.
Per serve - Energy: 198kcal | Carb: 16.40g | Prot: 3.59g | Fat: 15.11g
Cucumber Pepper Salad
Light, refreshing salad to pair with protein.
Per serve - Energy: 88kcal | Carb: 14.11g | Prot: 1.02g | Fat: 3.77g
Tomato Salad
Juicy tomato salad with cucumbers and onions.
Per serve - Energy: 306kcal | Carb: 61.50g | Prot: 12.61g | Fat: 2.89g
Black Bean Cilantro Salad
Black beans with cilantro, lime, garlic and onion.
Per serve - Energy: 240kcal | Carb: 44.45g | Prot: 14.99g | Fat: 1.04g
Turkish Salad
Tasty, colorful and full of goodness.
Per serve - Energy: 315kcal | Carb: 46.47g | Prot: 10.77g | Fat: 15.42g