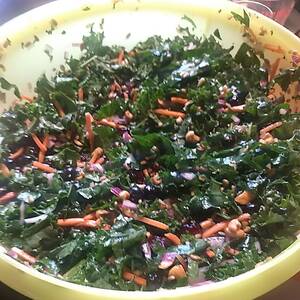 Ingredients
Directions
Chop kale (stems removed).
In a large bowl add kale, onion, carrots, blueberries, dried cranberries, cashews (smashed into bits) and shelled sunflower seeds. Set aside.
Whisk together oil, vinegar, salt, pepper and sugar to make dressing.
Pour dressing onto salad and toss.
Refrigerate for about an hour before serving.
Nutrition summary
There are 249 calories in 1 serving of Super Summer Kale Salad.
Calorie split: 51% fat, 43% carbs, 6% protein.
Related Recipe Collections
Related Recipes
Power Blueberry Muffins
Lower carb, higher protein version of blueberry muffins.
Per serve - Energy: 167kcal | Carb: 13.04g | Prot: 7.19g | Fat: 10.72g
Samosa Pea Soup
A tasty pea soup with curry and vegetables.
Per serve - Energy: 135kcal | Carb: 21.92g | Prot: 7.72g | Fat: 2.37g
Pumpkin Oatmeal Cookies
Sensational oatmeal cookies with pumpkin and blueberries.
Per serve - Energy: 42kcal | Carb: 8.15g | Prot: 1.52g | Fat: 0.65g
Carrot and Onion Soup
An easy to make and tasty low calorie soup.
Per serve - Energy: 43kcal | Carb: 9.21g | Prot: 1.44g | Fat: 0.32g
Onion Carrot and Ginger Soup
A simple and tasty fat free vegetable soup.
Per serve - Energy: 46kcal | Carb: 9.08g | Prot: 1.84g | Fat: 0.49g
Carrot, Celery and Apple Juice
A yummy juice packed with vitamins and low on points.
Per serve - Energy: 341kcal | Carb: 86.07g | Prot: 4.63g | Fat: 1.61g