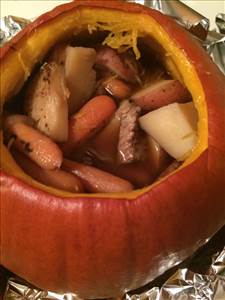 Stew in a Pumpkin
Hearty Fall dish.
Servings: 6
Prep Time: 30 mins
Cook Time: 1 hr
Average Rating:
Ingredients
Directions
Hollow out pumpkin. Reserve seeds (they can be washed, dried, tossed with coconut oil and roasted on a baking sheet alongside the pumpkin).
Sauté veggies on the stove top just until slightly tender.
Add cubed sirloin steak. Cook until browned.
Mix flour into beef broth and pour over veggie mix. Cook until thickened.
Ladle stew into pumpkin and place the lid in top.
Put the pumpkin into a foil lined baking dish and bake at 350 °F (175 °C) for 1 hour.
Nutrition summary
There are 217 calories in 1 serving of Stew in a Pumpkin.
Calorie split: 14% fat, 48% carbs, 38% protein.
Related Recipe Collections
Related Recipes
Spaghetti Squash Casserole
Low carb/keto meal using spaghetti squash.
Per serve - Energy: 504kcal | Carb: 13.15g | Prot: 33.20g | Fat: 34.33g
Cabbage Stir-Fry
Stir-fry dish with veggies and turkey sausage.
Per serve - Energy: 186kcal | Carb: 18.98g | Prot: 11.51g | Fat: 8.70g
Chicken Scampi
Low carb and gluten free.
Per serve - Energy: 547kcal | Carb: 7.58g | Prot: 30.00g | Fat: 43.00g
Keto Hot Dogs n Greens
Quick keto friendly snack.
Per serve - Energy: 546kcal | Carb: 11.43g | Prot: 19.00g | Fat: 47.14g