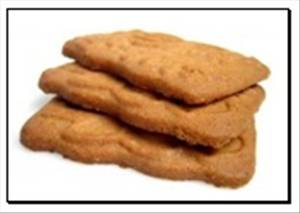 Speculoos
Belgian spice cookies.
Servings: 65
Prep Time: 35 mins
Cook Time: 8 mins
Average Rating:
Ingredients
Directions
Combine flour, baking powder, salt, cinnamon, ginger and cloves in a medium bowl. Set aside.
Cream brown sugar and butter together in a large bowl. Add the egg and beat until fluffy. Add the dry ingredients gradually and mix until combined.
Divide the dough in two halves. Flatten each half and wrap with plastic wrap. Refrigerate for 1 hour.
Pre-heat oven to 350 °F (175 °C).
Grease two baking sheets. Lightly flour a work surface and your rolling pin.
Roll out each dough piece until very thin. Cut cookies with a cookie cutter, roll out remaining dough and cut again. Repeat with the second dough piece.
Put cookies on the baking sheets and bake until the edges start to darken, about 8 minutes. Transfer to a rack and cool.
Nutrition summary
There are 41 calories in 1 serving of Speculoos.
Calorie split: 33% fat, 61% carbs, 6% protein.
Related Recipe Collections
Related Recipes
Pumpkin Oatmeal Cookies
Sensational oatmeal cookies with pumpkin and blueberries.
Per serve - Energy: 42kcal | Carb: 8.15g | Prot: 1.52g | Fat: 0.65g
Banana Date & Oat Cookies
With rolled oats, dates and banana, these are delicious and healthy cookies.
Per serve - Energy: 41kcal | Carb: 4.71g | Prot: 0.54g | Fat: 2.32g
Flax Cookies
Kids will not even think about chocolate chips after biting into these tasty yet nutritious cookies.
Per serve - Energy: 77kcal | Carb: 9.49g | Prot: 1.51g | Fat: 3.84g
Ginger Peanut Snap
A thin, chewy cross between a peanut butter cookie and a gingersnap.
Per serve - Energy: 85kcal | Carb: 16.45g | Prot: 1.82g | Fat: 1.55g
Oatmeal Banana Chocolate Chip Cookies
Really healthy and good cookies that will satisfy your sweet tooth without expanding your waistline.
Per serve - Energy: 79kcal | Carb: 12.28g | Prot: 1.91g | Fat: 2.97g
Low Carb Peanut Butter Cookies
Flourless peanut butter cookies make a great treat.
Per serve - Energy: 92kcal | Carb: 3.65g | Prot: 3.95g | Fat: 7.50g